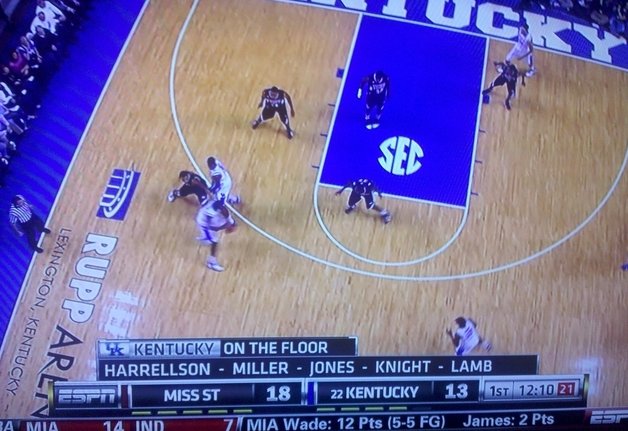 Posted by Matt Norlander
No. 22 Kentucky 85, Mississippi State 79.
Yeah, that whole ESPN thing with the camera in the ceiling and making all of us dizzy? Never again. That's pretty much universal. Renardo Sidney was nearly as abused as the ESPN camera angles on Twitter. UK survives at home, but with how sloppy MSU looked, yet UK couldn't pull away ... will Wildcats fans really start to get restless? You bet! A lot of folk thought Calipari's team was trending upward. May not be the case.
No. 2 Ohio State 71, Michigan State 61.
The problem with Michigan State: It gets no brownie points for keeping it close on the road. The hole's now too big, so we can't even credit the Spartans for giving a game effort. Hard to figure how some still had this team in the field as of yesterday. Sparty is now 14-11 and 6-7 in the Big Ten with a miserable record against sure-fire Tournament teams.
Games with bubble implications.

Gardner-Webb 59, Coastal Carolina 57.
The Chanticleers go out mere
hours after I say they probably aren't good enough
for an at-large bid and prove me right. At 15-1 in the Big South, the Chants will need to win the league tournament to earn an at-large, most likely.
Virginia Tech 91, Maryland 83.
And the Turtles, who were also a subject addressed in the link above, do themselves no favors by falling on the road to the Hokies. Maryland's about done, folks. Only a road game at UNC presents itself as a worthwhile opportunity to boost Maryland's resume. From there, the ACC tournament will need to be the springboard, and a title-game appearance is the minimum.
St. John's 80, Marquette 68.
The Johnnies are now 8-5 in the Big East. Would take a five-game losing streak for Steve Lavin's team to be in danger of not dancing. Marquette at 6-7 and with a lot of close losses, doesn't appear it can turn the ship like it did last year, when it rallied and won close to earn a bid.
Wichita State 80, Evansville 74.
The Purple Aces are a tricky team in the Missouri Valley. The Shockers get the win and remain in the at-large picture by doing so. A loss would've crumbled everything.
Missouri State 60, Drake 51.
Missouri State, like Wichita State, is 13-3 in the Valley. Fun race to the finish!
Hofstra 81, William & Mary 78 (OT).
And, the best for last. Here's Charles Jenkins of Hofstra.
I've written on him here.
Man's a bona fide All-American. Here's how he won the game for the Pride last night, lifting his team to 12-4 in the CAA.