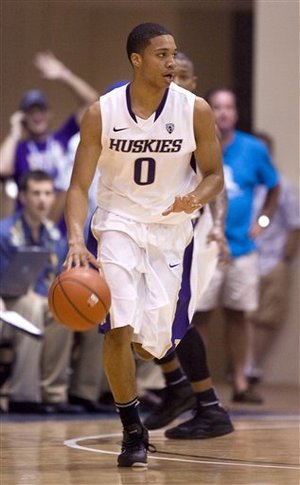 By Matt Norlander
We have to start re-evaluating how long we consider proper rehab time should be for certain injuries. Used to be that something like an ACL tear meant, minimum, 12 months of recovery.
But Abdul Gaddy
ripped apart his left knee in January
. And he's now able to play, full-bore, on the basketball court. That's not even nine months away from the game he loves. What's more, Gaddy said he felt almost all the way back as early as June, but his expectations on a full clearance weren't high this soon before the start of the season.
"We were going into today (Wednesday) expecting to hear that I was going to have to gradually get back into action," Gaddy said through a school statement. "But [Dr. Wahl] was like 'No, you're good.' Coach Romar even asked that if we had two-a-days would I be able to go in both and he was said yes and that I was good to go. ... They pretty much told me it's like I have never gotten hurt now."
Great for Gaddy, even better for modern medicine and physical therapy.
Gaddy was cleared
to come back when the school announced its point guard's return to action Wednesday. Soon thereafter he was already busy getting back into form by going at it with locked-out NBAers Spencer Hawes (a former Husky) and Nick Collison (who used to play in Seattle, with the Sonics).
"We're very excited for Abdul," Washington coach Lorenzo Romar said in a statement. "He did a great job of listening and working with the trainers and doctors. Pat Jenkins did a fantastic job of working him and bringing him along at the right pace. We're ecstatic to have him back 100 percent."
Gaddy's a positive force with a lot of potential and someone who'll be key for Washington this year. The junior guard recently took to Twitter to prove his work ethic's worth, writing that he'd set himself a goal of
making 18,000 shots
. The humble piece of paper and simple arithmetic was a nice touch. Gaddy was shooting 40 percent from 3-point range prior to his injury last season.
Photo: AP