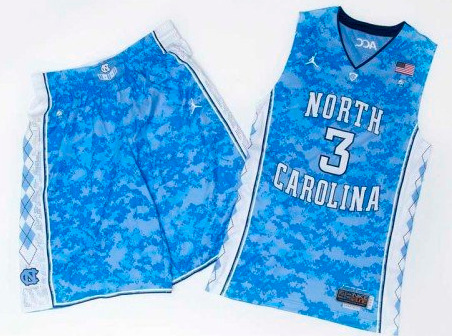 By Matt Norlander
I can't see why UNC wouldn't opt to
go with this look
for the Carrier Classic.
One of the
coolest regular-season events
in the history of college basketball is almost two weeks away (
Obama's going
, remember), and it's all but guaranteed that both Carolina and Michigan State will wear camouflaged-themed uniforms as a way of honoring the troops/the fact they're playing on an active United States Military vessel.
The event keeps getting better and better. Lots of build-up. Only hope it doesn't rain.
Wait a second -- this is in San Diego. We're in the clear, literally.
Michigan State hasn't released their alternate threads formally yet, but
Tom Izzo's confirmed it
and there's already been a camera that's caught the alleged green-and-grays. Wonder if these uniforms will go up for auction/charity afterward. They're one-of-a-time style kind of lends itself to an auction, right?
Photo via UNC athletics