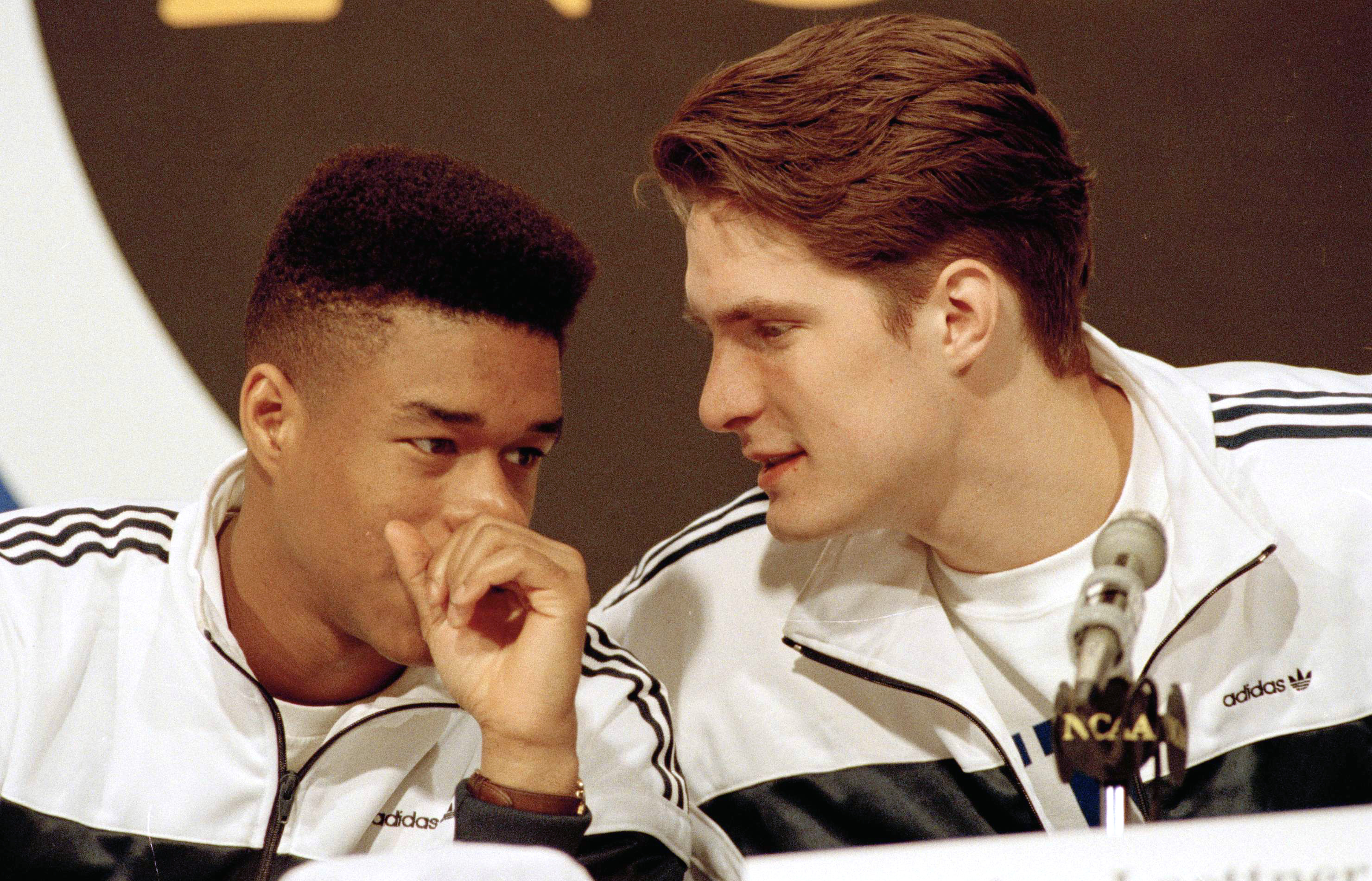 By Matt Norlander
If it's about Duke, we're always interested.
If it's about Duke's much-hated, much-respected title teams from the early '90s, we're increasingly interested.
And if's about that team being a group of troublesome, dysfunction miscreants, then GOODNESS WHERE DO WE SIGN UP.
According to USA Today
, there is a documentary being made about the Blue Devils' '91 and '92 championship teams that's set to air on Turner Sports' networks in March. Grant Hill and Christian Laettner (pictured above, right, with immortal hair god Thomas Hill) are co-executive producers of the doc, which will be filled with interviews from players, coaches and team managers who played a part in creating one of the most polarizing teams in the history of college basketball.
Turns out, there was plenty of tension on the team as well, some of it intentionally planted by Mike Krzyzewski, who told Laettner and other captains behind closed doors to keep the team on edge.
Here's an anecdote courtesy of
USA Today
:
Hurley, a street smart player from Jersey City, drove the lane anticipating Laettner would step in for the charge, but instead of dumping a pass to Laettner's man, who was open, Hurley whipped the ball into Laettner's face. "Of course it was intentional," Laettner said. The 6-11 Laettner chased Hurley, listed at 6-2, out of the gym but couldn't catch him. ...

"I taunted him, told him he sucked and he needed to go home, and I've apologized for all that," Laettner said. "I was hard on Bobby, but I also remember the first time I saw him play. It was like, 'Wow, I get to play with this kid.'"

The documentary, according to (Grant) Hill, will tell how Duke's 1992 team stayed on an edge that Laettner and Brian Davis helped create. That whole season was about the big picture, a legacy. In 1992, Duke was 17-0 before it finally lost, 75-73 to North Carolina on Feb. 5, and Hill figured Krzyzewski would not waste time re-sharpening the blade.

"The next day I took a nap because I figured practice that day was going to be long and hard," Hill said. "You know what Coach K did? He took us over to the football stadium for an ice cream sundae party. I was thinking, 'Did Coach bump his head or something?' It shows you something about the genius of the man."
That is genuinely hysterial.
Well-done sports documentaries have become more and more frequent in the past three years, and I think we're in a golden age of storytelling in the genre. College basketball has plenty of serial and seminal moments from its past still worth going back and visiting. Duke's back-to-back title-winning seasons are chief among the most interesting subject matter we have. Really looking forward to this doc, as I'm pretty certain it will only reinforce my unabashed hate for Laettner and love for Tommy Hill.
(Oh my God, oh my God.)


We'd better get at least 10 minutes devoted to Duke-Kentucky in '92.

Photo: AP