While the final two games of the day weren't very exciting, the Big 12 still had its moments on Thursday. It might have been overshadowed in the early afternoon by the Big East and Kemba Walker's buzzer shot, but there was a near-upset and a bubble team punching its ticket. The remaining field seems wide open.
Oklahoma State looked to continue its run through the conference tournament against top-seeded Kansas, and nearly pulled it out. The Jayhawks needed a late run and a missed heave at the buzzer from J.P. Olukemi to escape. In the 4-5 game, Colorado received 52 points from Alec Burks and Cory Higgins to beat Kansas State for the third time and put itself in good position for an at-large bid.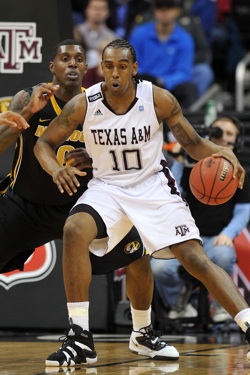 Texas received a reprieve by getting Oklahoma in the quarterfinals after the Sooners upset Baylor, and the Longhorns took advantage. They led by as many as 25 in the first half and cruised the rest of the way. In the nightcap, Texas A&M got off to a great start against Missouri and shot nearly 58 percent from the field on the night. Missouri still struggles to win away from home.
Updated Big 12 Tournament Bracket
Kansas (1) vs. Colorado (5): Kansas looked less than impressive in its win over Oklahoma State on Thursday and will now face a Colorado team that is playing its best basketball at the right time. Alec Burks and Cory Higgins are capable of filling it up offensively, although Kansas has the wing defenders to create problems. Kansas State struggled to defend both. Offensively, the Buffaloes will have draw fouls and score around the rim. On the other side, Colorado struggles to defend the 3-point arc – Kansas can take advantage. Moreover, the Buffs have no one to defend Marcus Morris.
Texas (2) vs. Texas A&M (3): Neither team had much trouble dispatching of its quarterfinal opponent, but Friday's battle should be a little tougher. Texas handled A&M both times the two teams played each other this season, winning the two games by a combined 41 points. If A&M is to avenge its earlier losses, it will need to get to the free-throw line and try to get the Longhorns' bigs in foul trouble. Defensively, it has to keep Texas off the glass. If Texas controls the interior and stifles A&M's offense, it could be another long night for the Aggies.
Photo: US Presswire
Posted by Jeff Borzello