Posted by Eric Angevine
We know who the top three teams in the ACC are – the layering is obvious to see.
Duke is not only the top ACC team, but has garnered 19 first place votes to move back atop the national polls this week. North Carolina is No. 19 and managed to just hold Boston College at bay this past weekend to stay in second place in the league standings. Florida State, even without Chris Singleton, has a firm grip on third, with a 9-3 record.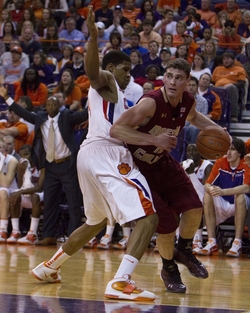 So why do we care who's fourth? As Brett Friedlander of ACC Insider reminds us, the top four teams get first-round byes in the ACC tournament, and no team has ever won the ACC auto-bid after playing all four days.
Right now, there are four legit contenders for that fourth spot, which could conceivably lead to an at-large-worthy resume for the team that earns it:
Virginia Tech 7-5
Clemson 7-6
Boston College 6-6
Maryland 6-6
Each team below Maryland is well under the .500 mark in conference play.
The schedule is beautifully stacked in terms of working this logjam out. After a visit to woeful Wake Forest on Tuesday of this week, the Hokies play Duke, BC and Clemson to finish out the season. Clemson's next game is a home game vs. Wake, then they get Duke and Virginia Tech to finish. Maryland has the best two potential statement games, hosting Florida State on Wednesday and heading to the Dean Dome on Sunday before their season tails off with Miami and Virginia.
Clearly, the Hokies have the most control over their own fate right now. They have the better league record and two chances to play spoiler with teams right below them. On paper, that makes sense, but on hardwood, the Hokies have been anything but consistent.
According to kenpom.com's predictive formula, however, the first shot may be fired by the Terps. He gives them a 77 percent chance to upset FSU on Wednesday. The much-improved play of Maryland guard Terrell Stoglin is giving fans of the program a great deal of hope. If Gary Williams takes a page out of Boston College's book and throws a zone at the Tar Heels, he may very well grab a crucial W in that one as well.
Clemson has also sneaked into the national top 20 in defensive efficiency, and Friedlander says it's too soon to count the Tigers out for the bye and for at-large NCAA consideration. Obviously, this stretch is crucial.
Given that Tech has already swept Maryland on the season, they have the most to gain by playing out the string well, but the ever-dwindling roster in Blacksburg makes that look like a near impossibility. The March 5 Virginia Tech at Clemson game is setting up for loads of drama. It could mean the difference between a four letter bid to the NCAA or a depressing three-letter consolation prize (NIT, CBI, CIT).

In the Olympics, fourth place gets you nothing. In the ACC, it could mean a great deal.

Photo: US Presswire