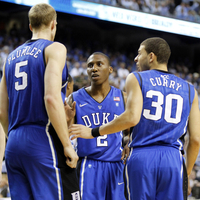 Yes, it does seem a bit funny to welcome the defending national champs to the Big Dance, which they basically own until proven unworthy, but that's how we roll. You win an auto bid, you get the treatment.
Duke ran UNC out of the gym from the beginning, but Carolina fought the lead down to single digits in the second half before Nolan Smith took the game in hand and closet out the 75-58 victory that should lead to a top seed for the Blue Devils. Smith had 20 points and 10 assists. Seth Curry and Kyle Singler pitched in 11 points apiece, and Miles Plumlee, Andre Dawkins and Ryan Kelly each scored 9.
That balance should once again serve the defending champs well as they attempt to visit Houston and make it a national title repeat.
The Vitals


Player to watch:
Nolan Smith
. He has the ball in his hands on almost every play, and he makes excellent decisions. His line in the ACC championship illustrates that very well. When he didn't score it himself, he pitched the ball to someone who could.
Record: 30-4 (13-3)
Colors: Blue and white
Kenpom rating: 2
RPI: 4
Best win: North Carolina (twice)
Worst loss: Florida State
Interesting fact: Does Duke have any real weaknesses? They're a mediocre defensive rebounding team. That's about it.
Last tourney appearance: Not much. Just messed around and got another national championship.
Posted by Eric Angevine