The Atlantic Sun conference has been a two-horse race for a while now. Central Florida was the last team not named Belmont (19-1) or East Tennessee State (16-4) to win the league's auto-bid. UCF did it in 2004 and 2005 before decamping for C-USA. ETSU has had the misfortune of facing No. 1 seeds in back-to-back seasons most recently, but the three years before that were all Belmont.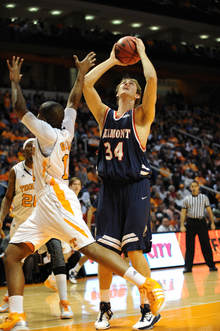 This is notable because the Bruins may have played in one of the most memorable losses in recent tournament history. On March 20, 2008, juniors Alex Refroe, Matthew Dotson and Andy Wicke combined for 43 points in a 71-70 loss to the No. 2 seed Duke Blue Devils. It took a full-court driving layup by Gerald Henderson with 12 seconds left to stave off what would have been only the fifth 15 over 2 upset in tournament history.
This year, the top of the A-Sun standings look pretty familiar. Belmont has been one of the more consistent teams all season long, losing just three non-conference games (to Tennessee, Vanderbilt, and Tennessee again) and going 19-1 in league play. With 6-foot-9 Mick Hedgepeth (right) and 6-10 Scott Saunders up front, the Bruins don't look like your typical mini-major team. Add in the extreme loyalty of head coach Rick Byrd – he's been at Belmont since 1986 – and you've got a recipe for consistent championship basketball.
The most obvious threat to Belmont's run to the Big Dance are the ESTU Buccaneers. Coached by Murry Bartow -- son of legendary Memphis (State) coach Gene Bartow – the Bucs had a respectable 16-4 conference record that nonetheless contained a pair of ten-point losses to the Bruins.
You may be wondering which team in the league did manage to blemish Belmont's record. The Lipscomb Bisons (12-8) hold that distinction. The only other team that seems like a threat is the Mercer Bears (11-9), if only because the tournament is being staged on their home court in Macon, Georgia.
Of the 11 teams in the A-Sun, only the top 8 qualify for the tournament. Florida Gulf Coast finished seventh, but was ineligible to participate as a condition of their recent re-classification to D-I. The Stetson Hatters and South Carolina-Upstate Spartans will also watch from home.

See the A-Sun tournament bracket


***


BEST PLAYERS
Adnan Hodzic:

Lipscomb

Mick Hedgepeth:

Belmont

Mike Smith:

East Tennessee State

Conference RPI: 17
Kenpom.com Conference Rating: 20
Sagarin Conference Ranking: 21
NCAA Tournament Locks: None
NCAA Tournament Bubble Teams: None
Last NCAA Tournament Appearance:
Belmont Bruins: 2008 (71-70 loss to Duke)
ETSU Buccaneers: 2010 (100-71 loss to Kentucky)
Jacksonville Dolphins: 1986 (61-50 OT loss to Temple)
Lipscomb Bisons: Never
Mercer Bears: 1985 (65-58 loss to Georgia Tech)
North Florida Ospreys: Never
Campbell Fighting Camels: 1992 (82-56 loss to Duke)
Kennesaw State Owls: Never
Photo: US Presswire

Posted by Eric Angevine