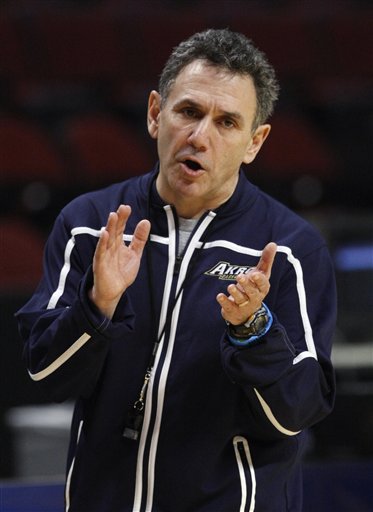 By Jeff Goodman
It had been four years since Keith Dambrot's team knocked off a BCS school.
This coming from a MAC program that has won at least 20 games each of the past six seasons - and made the postseason each of the past four years.
Last night Dambrot's Zips pulled off the first upset of the young 2011-12 college basketball campaign with a 68-58 victory over a talented Mississippi State team.
"Usually, we're not very good early in the year," admitted Dambrot, whose honestly is refreshing in an industry in which it's also a rarity.
Dambrot said this was the worst his team has looked in practice in any of the eight seasons since he took over in 2004.
"I honestly didn't know what to expect," Dambrot said. "We've got a lot of good pieces, but we have a lot to learn."
While Akron was led by Quincy Diggs in the scoring column, the key was developing 7-footer Zeke Marshall - a former Top 100 player who could be a pro due to his length and defensive ability.
"He affected every shot," said Dambrot, best-known for coaching LeBron James early in his high school career. "He's such a great kid and he keeps getting better."
"I called him a basketball virgin when he came here because he had no idea how hard to work and didn't know a lot about the game," he added. "He was a blank canvas."
Marshall finished with 10 points, six boards and five blocks and helped keep Mississippi State's inside duo of Renardo Sidney and Arnett Moultrie in check to 20 total points. Diggs, a New Orleans transfer, led the team with 19 points.
Despite the victory, Dambrot remained level-headed. He's not upset that his team isn't going to New York City next week while the Bulldogs will advance and play at Madison Square Garden - even after the loss.
"I'm a mid-major coach," he said. "Nobody understands that better than me. That's the way this tournament is. Nobody wants to watch the Akron Zips next week. They want to watch the big boys. I want us to get to that point, but I wouldn't invite us right now, either."
"Most likely we're going to have to win in March to get in the NCAA tournament. I'm a realist," Dambrot said. "This wasn't going to make or break our team."
Photo: AP