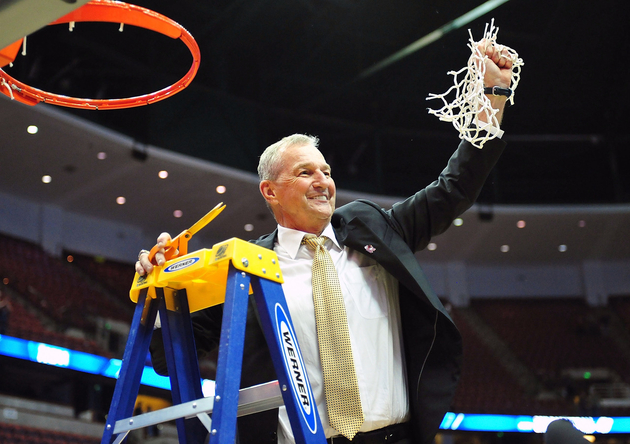 Posted by Eric Angevine
The Connecticut Huskies are the champions of the West region. If that phrase sounds familiar, it should. The same was true in 1999, 2004 and 2009. Two of those seasons ended in national championships. Apparently, Jim Calhoun thrives on cross-country travel. Who knew?

UConn can make this the third time they ride Pacific waves to the national title if Kemba Walker keeps playing the way he has. The super junior has averaged 26.7 points and 6.5 assists per game in the NCAA tournament, showing that he can lead his team to victory as a dominant scorer or a deft distributor. He has the Huskies on a nine game win streak at just the right time of the year. By now, it would seem crazy to bet against his ability to will the team to wins number 10 and 11.
He doesn't do it alone, no matter what you've heard. Without Alex Oriakhi in the middle, the Huskies would be dead in the water. The sophomore is tops at establishing defensive position and starting the break going the other way off of an opponent's miss. He's instilled some of that toughness in freshman Roscoe Smith as well. Looking at freshmen, however, it's the two first-year guards who impress the most. Shabazz Napier has shown himself to be a ball-hawking defensive player with an ability to drill the open jumper, and Jeremy Lamb has been a breakout star, using his long arms to disrupt on defense and throw down spectacular dunks on offense.
Ordinarily, a team with so many freshmen would not be a Final Four favorite. But factor in the decades of experience from Hall of Fame coach Jim Calhoun, and it all seems to average out. Plenty of excitement still to come from these Huskies.
Regional MVP: Kemba Walker, without a doubt. He has weathered strong challenges from Nolan Smith and Derrick Williams and come out the other side even stronger. Walker keeps defenders cross-footed with his ability to drive to the hoop or step back for a trademark lethal three-point dagger. Most impressive is his indomitable will to win. He never seems to get tired.
All-regional team
Kemba Walker, UConn
Jeremy Lamb, UConn
Derrick Williams, Arizona
Kyle Singler, Duke
Kawhi Leonard, San Diego State
Game to remember: Arizona's three close games -- two wins and a loss -- were each memorable in their own way, but it was the one blowout that made the biggest impression. Sean Miller announced that the Wildcats were back ahead of schedule with a 93-77 demolition of the defending national champion Duke Blue Devils. Derrick Williams' 5-6 from deep provided the first-half highlights, then a series of monster dunks from he and his teammates completed the shocking result.
Game to forget: UConn's 69-58 win over Cincinnati was a necessary step along the way to the Final Four, but nothing about it will stand out in the memories of fans (unless it's Kemba's NBA-ready five-steps-without-dribbling drive to the hoop) in retrospect. Even Walker's 33 points were sort of been-there-done-that for the national Player of the Year favorite.
Biggest disappointment: Duke. When Kyrie Irving returned just in time for the Big Dance, it almost seemed unfair. This team was built to win a repeat national championship, with senior leadership, bulk inside, hot shooting outside, and a legendary coach. With every reason in the world to win out, the Blue Devils fell flat against an overlooked Arizona team, leaving Coach K to wait until next year to claim the D-I coaching wins record. It's probably going to be a little anticlimactic for it to come against Furman (or whoever) in December rather than in a national title game.
Best individual performance in a losing effort: Tempting to give Derrick Williams the nod for overcoming foul trouble against UConn to score 20, but his shooting touch was off, to the tune of 5-13 from the field and just one three-pointer out of six going in. So, we'll reach way back to the second round and Talor Battle's 23 in a narrow loss to Temple. If his last-second heave hadn't hit the scoreboard, it very well might have gone in. The kid was on fire like that.
Most memorable moments
Derrick Williams blocks Wesley Witherspoon to preserve a 77-75 Arizona win over Memphis in the second round.
Temple's Juan Fernandez nails a leaner at the buzzer to beat Penn State 66-64; second round.

Darius Morris of Michigan barely misses a runner in the lane, Coach K wins his 900th; third round.
Derrick Williams gets the old-fashioned three-point play inside and Arizona beats Texas 70-69; third round.
Jamelle Horne's second-half dunk puts Arizona up 77-63 on Duke, Sweet 16.
Jeremy Lamb skies for a steal and runout dunk to punctuate UConn's 74-67 win over San Diego State, Sweet 16.
Williams and Horne miss back-to-back three point attempts as Arizona falls to UConn 65-63 in the Elite Eight.
Kemba Walker hits a step-back jump shot with a defender in his face, 115-ish and counting.
Team to watch out for next year: If Williams comes back (yeah, right), it's Arizona. It might be anyway. Michigan really impressed with its poised group of young players in a near-upset of Duke, as well.
See you in Houston, Kemba and company.

Photo: US Presswire