The Big West is always one of the more intriguing conferences in the country. It normally produces a high-scoring, up-tempo outfit that plenty of people pick as an upset special in the NCAA tournament. This season, Long Beach State is that team – but the 49ers are legitimate.
Long Beach State received publicity throughout the preseason and non-conference season for its schedule. The 49ers played North Carolina, Kansas, Kansas State Louisville, San Diego State and others, getting wins over Pittsburgh and Xavier. They are battle-tested, despite coming up one win short of an undefeated regular-season campaign, losing to Cal State Fullerton in the season finale.
The 49ers have myriad weapons, led by Player of the Year Casper Ware. He's one of the most explosive guards in the country. Head coach Dan Monson also has Defensive Player of the Year Larry Anderson and double-double lock T.J. Robinson at his disposal. Eugene Phelps and James Ennis are also threats.
This isn't a lock for Long Beach State, though. UC Santa Barbara has a high-scoring duo in Orlando Johnson and James Nunnally, and the Gauchos slow the game down and contest shots on the defensive end. Cal State Fullerton can really fill it up, and the Titans have won 11 of their last 13 games. Kwame Vaughn and D.J. Seeley can really stroke it from deep, and Omondi Amoke is consistent inside.
If you're looking for a sleeper, UC-Riverside could be an option. The Highlanders play really stiff defense, contesting shots both inside and outside the arc. They have won three of their last four, and knocked off UC Santa Barbara and Washington State earlier this season.
Long Beach State wouldn't be a lock for the NCAA tournament if the season ended today; the 49ers need the automatic bid as much as the rest of the Big West.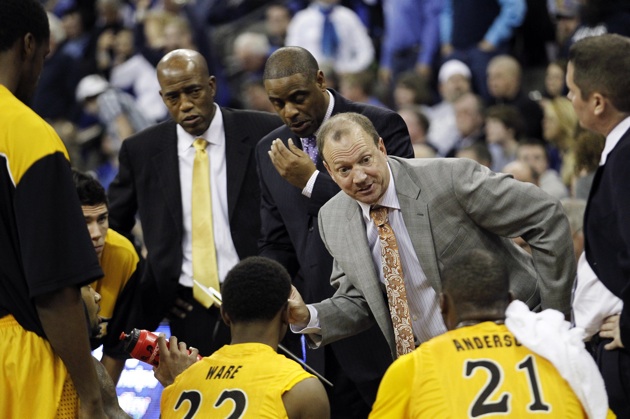 Dan Monson and Long Beach State might need to win the automatic bid to get into the NCAA tournament. (US Presswire)
****
Title game: Saturday, March 10 on ESPN2 (10:00 p.m., ET)
BEST PLAYERS
Casper Ware, Long Beach State
Orlando Johnson, UC Santa Barbara
Larry Anderson, Long Beach State
D.J. Seeley, Cal State Fullerton
Phil Martin, UC Riverside
Conference RPI: 24
KenPom.com rating: 21
Sagarin rating: 21
NCAA Tournament Locks: None
NCAA Tournament Bubble Teams: Long Beach State
Last NCAA Tournament Appearances
Cal Poly Mustangs: Zero appearances.
Cal State Fullerton Titans: 2008, No. 14 seed, lost to Wisconsin 71-56 in the first round.
Long Beach State 49ers: 2007, No. 12 seed, lost to Tennessee 121-86 in the first round.
Pacific Tigers: 2006, No. 13 seed, lost to Boston College 88-76 in the first round.
UC Davis Aggies: Zero appearances.
UC Irvine Anteaters: Zero appearances.
UC Riverside Highlanders: Zero appearances.
UC Santa Barbara Gauchos: 2011, No. 15 seed, lost to Florida 79-51 in the first round.
- Jeff Borzello