The Big Sky conference doesn't mess around. Of the league's nine teams, only six make the postseason. That's just the beginning. The top two seeds, in this case Northern Colorado (19-10 overall, 13-3 Big Sky), and Montana (20-9, 12-4) don't have to play until the semis on Tuesday, March 8. On Saturday the 5th, the four bottom seeds battle it out to see who gets to go on, but it's still not a straight bracket situation. After the first round, NoCo gets the lowest remaining seed and Montana gets the highest, and the rest of the tournament is played in the top seed's building. Talk about protecting your No. 1 team.
Northern Colorado has that advantage on its own merits, but owes a huge debt of thanks to sixth-seeded Eastern Washington (10-19, 7-9). After enduring a four-game losing streak in February, the Eagles rebounded to win their final two games against Montana and Weber State (17-11, 11-5), the only teams that had a chance to sneak into the top slot in the conference.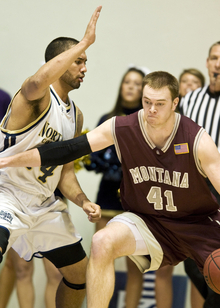 Northern Colorado may be the most surprising success story in the league. The Bears have only been in the Big Sky since 2006, and only in D-I since 2004. They're atop the league under a first-year coach, B.J. Hill (who took over from Tad Boyle when he ascended to the Big 12), and went 4-7 against D-I competition in the non-conference season, making the surge to the top of the standings all the more unexpected. Senior guard Devon Beitzel has a lot to do with that, putting up a conference-best 20.6 points per game.
Montana's greatest threat is Brian Qvale, the 6-foot-11 senior who nearly led the Grizzlies to an upset of New Mexico in last year's NCAA tournament. This year, his numbers are even better: 15 points per game, 62 percent shooting from the floor, 8.7 rebounds and 3.0 blocks per game. He helped Montana forge a season split with the Bears (you won't find any more rugged mascots than in the Big Sky) and can easily power this team to another auto-bid, even from the second slot in the tourney.
If there's a dark horse in this race, it's probably the Northern Arizona Lumberjacks (18-11, 9-7), a team that has five seniors, a long-term coach in Mike Adras and the nifty ballhandling of Stallon Saldivar (3/1 assists to turnovers ratio) providing the intangibles that could fuel a run to the title.
Since NoCo won the regular-season championship, the semis and final will be held in Greeley, CO regardless of results, so it may all come down to the Bears' ability to protect their house, where they haven't lost a game all season long.

Big Sky tournament bracket


****
Title game: 9:00 p.m. ET, Wednesday, March 9 (ESPN2)

BEST PLAYERS
Devon Beitzel,

Northern Colorado

Brian Qvale,

Montana

Stallon Saldivar,

Northern Arizona
Conference RPI: 24
KenPom.com rating: 22
Sagarin rating: 23



NCAA tournament Locks: None
NCAA tournament Bubble Teams: None
Last NCAA tournament Appearance:
Northern Colorado: N/A
Montana: 2010 (62-57 loss to New Mexico)
Weber State: 2007 (70-42 loss to UCLA)
Northern Arizona: 2000 (61-56 loss to St. John's)
Montana State: 1996 (88-55 loss to Syracuse)
Eastern Washington: 2004 (75-56 loss to Oklahoma State)
Note: Portland State, which won back-to-back auto bids in 2008 and 2009, has been ruled ineligible to participate in the 2011 Big Sky tournament.

Posted by Eric Angevine

Photo: US Presswire