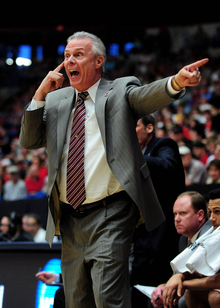 Posted by Eric Angevine

The University of Wisconsin recently announced that head hoops coach Bo Ryan's contract with the school has been extended through 2016. Should he see the contract through, Ryan will be 68, and have been in charge of the Badgers for 15 years.
Ryan's Wisconsin teams are consistently undervalued in the world of college hoops. They rarely land the big-name recruits, but always seem to be in the thick of the Big Ten race. Ryan seems to enjoy taking teams full of kids with names like Krabbenhoft or Stiemsma and turning them into NCAA contenders.
In fact, Ryan has taken the Badgers to the NCAA tournament in each of the ten years he has been in Madison. His rather unusual career has unfolded entirely in the state of Wisconsin, despite his early roots in Pennsylvania. Ryan spent 15 years at Wisconsin-Platteville and won four DIII championships before he got his DI shot - a two-year stint at Wisconsin-Milwaukee that seems like little more than a perfunctory stop-over on the way to the university system's plum job.
Ryan has been a very good coach at Wisconsin. His 242-91 record since taking over at the beginning of the 21st century grades out to a 72.7 percent winning percentage in a very tough conference. His career, taken as a whole, is pretty impressive, even though so much of it happened in the lower levels of the NCAA system. In the final analysis, will Bo Ryan be a Hall of Fame coach, or just a very memorable one?
If we're talking about the
National Collegiate Basketball Hall of Fame
, located in Kansas City, then Ryan seems like a shoo-in. His career, when all said and done, will most likely resemble those of men like Pete Carril and John Chaney, coaches who never made the Final Four, but came to define their respective programs. Each of those men is enshrined in KC already. If Ryan coaches 15 or 20 years in Madison, he'll likely have many more successful seasons and become the program's most legendary bench leader. He is already two spots from the top of the school's all-time basketball wins list.
The
Naismith Hall of Fame
in Springfield, Mass. is a little more difficult to predict. The Naismith Hall honors coaches from all levels of the game, from high school coach Bob Hurley, Sr. to women's coach C. Vivian Stringer to those who made their mark in the pro game, like Pat Riley. It's hard to guess whether a Final Four is necessary for Ryan's chances there - Carril and Chaney are both Naismith enshrinees as well - or how his DIII success might be weighted by enshrinement committee members.
The good news is, Ryan still has a few years of security and stability in which to reach for that big final weekend of the season. Even if he doesn't make it, it's important to note that Ryan has taken the team to more NCAA tournaments (ten) than the program had attended in all of the years before he was hired in 2000 (seven). In addition, his name has become synonymous with a rugged, winning style of basketball; hoop aficionados will generally smile and give a small shake of the head if you mention a "Bo Ryan team".
Ryan's impact on college basketball is already undeniable. Over the next five years, he has a chance to lock down an even larger legacy and a guaranteed Hall of Fame invite.
Photo: US Presswire