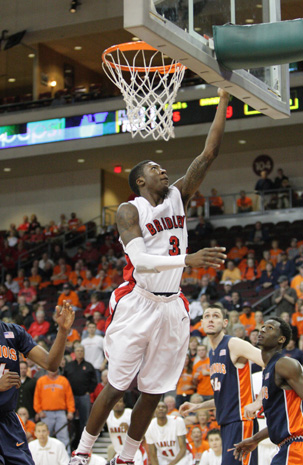 By Matt Norlander
There is a bittersweet element -– and that may be severely understating it -- to the fact Taylor Brown can confidently and safely play basketball once again.
The Bradley senior was cleared to return, full-time, to the team this month after nearly a year away from the game. The reason he was forced to sit to begin with? The death of Phil Kaiser.
Kaiser died last October. He was 21 years old and a member of Bradley's baseball team. He suffered from hypertrophic cardiomyopathy, a condition that gives the heart an irregular rhythm and thickens muscle tissue surrounding -– and essentially suffocating --the organ.
In the wake of Kaiser's death, Bradley's doctors and trainers immediately called for heart check-ups of every player at the school. Turns out Brown had a heart murmur spotted during his sophomore year. From the get-go, he didn't stand a chance to play. Brown still remembers the dates last year when his heart's stability came into question.
"The tests were on Oct. 19 and 20," he said. Two weeks later, he was given the news: cardiomyopathy may be an eventual diagnosis. Given the high level of sensitivity at the school, Brown was immediately put on the shelf. He didn't want to believe it, of course. So he spent many nights performing amateur research projects in his dorm room. He eventually flew up to the famed Mayo Clinic in Rochester, Minn., for more tests and opinions.
"I found out the Wednesday before the first game on the Thursday," Brown said. Doctors weren't certain he had cardiomyopathy, but the only way for them to find out was to sit him completely for a three-month time period. Forget playing in games; Brown couldn't so much as break a sweat in his down time. The extent of his interaction with his teammates was shooting free throws in practice.
Through the first six weeks of his wait, Brown said he tried to learn a new appreciation for the game and team workouts, and he did do that, but there was still hope he'd come back for the second half of the season. His mind wandered to the future often, with images of him back on the court distracting him from his situation as it stood. And as you'll see in the video below -– which is essentially a trailer for a documentary that's being made on Taylor's journey -– the news wasn't good.
The news got good early in 2011. At the end of the team's 12-20 season, Brown traveled to the Minneapolis Heart Institute to get an updated prognosis on his condition. He was told his heart was healthy. The muscle mass surrounding the heart had decreased, and he was cleared to begin light workouts in June.
But while the good news for him came, there were two other faraway notices that kept his happiness and check and further emphasized to him how delicate his situation could be.
"When I was in St. Louis for the MVC tournament, that's when the story about the young guy (Fenville High's Wes Leonard) passed away in Detroit," Brown said. "His cousin's in our conference, at Missouri State (Adam Leonard), and it made me think about it a lot. Me and my father was also talking about a girl that was running track and suddenly died. It was surreal going through that, and even though there wasn't anything wrong with me, I felt a connection to those people."
Brown said he was about 60 to 70 percent back by May. It was then when the treadmill power walks and ball-handling drills initiated his return to hoops. In June, he and trainers were really breaking sweats and breaking back into the drills.
Despite the precaution and the scare, Brown said he's not hesitant about playing now and doesn't worry about suffering a heart-related issue on the court. He was never scared that something might be wrong.
"Maybe throughout the time I was sitting I was thinking more [negatively] then, but since I have been back and playing, that's been the last thing on my mind," he said. "The whole time I was sitting, being with my family, we knew nothing was wrong with me and the athletic heart was going to shrink. When I'm out there now, I really don't think of my heart this and my heart that."
Now the challenge is getting in peak physical shape for his final go-round. Brown is 205 pounds again –- the weight he was during his sophomore year –- but it's a softer 205, since he ballooned up 25 pounds during his time away from the game. The 6-6 forward has a 7.8 points and 4.7 rebounds per game average in his career.
Photo: Bob Hunt, courtesy of Bradley Athletics