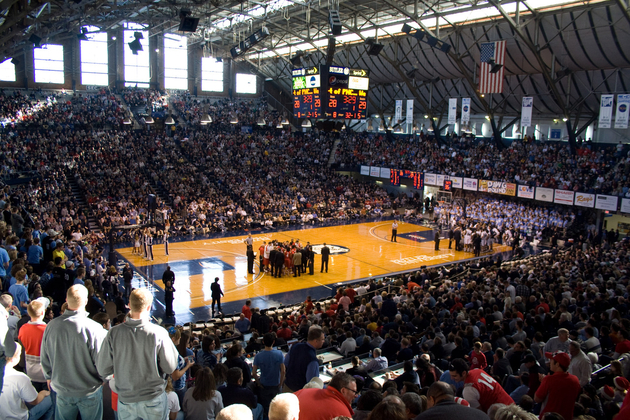 Posted by Eric Angevine

With a hat tip to my hoops brother-in-arms
Mike Miller at Beyond the Arc
, I thought I'd share a rare bit of good news in this refractory period for Butler basketball. According to the Indianapolis Star, historic
Hinkle Fieldhouse has been awarded $700,000 in preservation funds
by the federal
Save America's Treasures
grant program. For the record, that's nearly what it cost to build
the beloved building
way back in 1928.
This is great news, not only for Butler University, but for college basketball as a sport. In a season where
Oregon's Mac Court
saw its last DI action, fans are more mindful than ever that our classic structures are in danger of fading away. There's no denying that a modern facility becomes ever more crucial in attracting talented players, but that doesn't mean our beautiful old buildings must be torn down. Including Hinkle Fieldhouse on a list of preservation projects alongside the National Cathedral in Washington D.C., the archives of the Dance Theater of Harlem and a collection of Norman Rockwell's art, amongst other projects, acknowledges that a mere athletic facility can become a work of art in the eyes of history.
I like what the University of Kentucky did with
Memorial Coliseum
, which is, let's face it, a much more attractive building than Rupp Arena. Memorial survives on the UK campus as a venue for other sports, attached to the men's basketball workout facilities as a constant reminder of where the Wildcats came from. It was, after all, the home of the Baron of the Bluegrass, who never coached in the building that was named after him.
I hope this trend of preservation continues. The SAT grant program has shown us a way to honor basketball's past without getting stuck in it. It's a trend we can all hope will continue when time comes to decide the fates of buildings like Fordham's
Rose Hill Gym
, Minnesota's
Williams Arena
,
Memorial Gym
at Vanderbilt,
Dayton Arena
,
The Palestra
, and so many others.
Photo: Eric Angevine