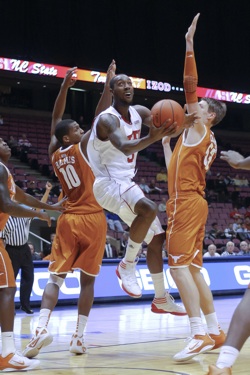 When C.J. Leslie was suspended before the first game of the season for accepting extra benefits, it wasn't clear how he would respond.
After all, Leslie has had his ups and downs during his short career in Raleigh. He was suspended last year for a violation of team rules, and has been relatively inconsistent through 32 games in a Wolfpack reunion.
In the two games since returning from suspension, though, Leslie is averaging 18.5 points and 4.5 rebounds, shooting nearly 65 percent from the field. He went for 17 points against Texas in Monday night's win.
"I learned a lot [while suspended]," Leslie said. "I didn't just take it as a bad experience."
He came off the bench in both games of the Legends Classic, making a huge impact at both ends of the floor. When Leslie is at his best, he's one of the toughest matchups in the ACC.
Leslie is very good in transition and loves playing above the rim. He has plenty of talent and is continuing to improve both his perimeter shot and his back-to-the-basket game.
"He gives us another athlete," head coach Mark Gottfried said.
A consistent and focused Leslie could be the difference for North Carolina State this season. The Wolfpack have some good perimeter talent in Lorenzo Brown and C.J. Williams, and a knockdown shooter in Scott Wood. Inside, Richard Howell and DeShawn Painter are solid.
The player that could put them over the top, though, is Leslie. His talent level is unmatched on the NC State roster and he has the ability to take over game at the offensive end. There were stretches last season where he looked like an all-league player, and others where he was nothing more than an ineffective role player.
"He brings a level of athleticism that changes your team," Gottfried said.
The optimism surrounding North Carolina State is mostly focused on its top five recruiting class for next season.
If Leslie plays to his potential, though, the Wolfpack might not have to wait that long for an improved finish in the standings.
Photo: US Presswire