Posted by Jeff Borzello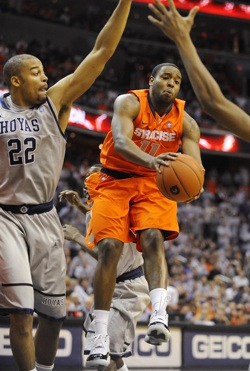 Down three with 36 seconds left against Syracuse, Georgetown would normally go to Chris Wright, the Hoyas' point guard who has hit plenty of clutch baskets this season.
Unfortunately, Wright is out with a broken left hand.
As a result, Georgetown settled for a contested 3-pointer from Jason Clark and couldn't pull out a win, falling to the Orange, 58-51.
The Hoyas had an inspired effort, outrebounding the bigger Syracuse frontline and getting an impressive second-half performance from Austin Freeman. Nate Lubick and Henry Sims also had their moments.
It still wasn't enough, though.
Without Wright, Georgetown lacked creativity on offense. Against the Syracuse 2-3 zone, the Hoyas settled for outside jumpers and contested shots. They didn't have anyone to attack the defense and create shots near the end of the shot clock – or when they needed a basket at the end of the game.
Freeman and Clark are excellent shooters and form a terrific backcourt tandem, but neither is a true point guard or is used to being the team's primary playmaker.
Defensively, Scoop Jardine took advantage of the Wright-less Hoyas. He constantly hit big shots and got into the lane to either score himself or dish off to an open teammate. Jardine finished with 17 points and seven assists, to go with only one turnover. He also scored seven points in a game-changing 9-1 run once Georgetown took a two-point lead midway through the second half.
After the news came down about Wright's injury, pundits and analysts immediately wrote Georgetown off. A loss at Cincinnati in the season finale would be three consecutive losses to finish the regular season – the Hoyas' seed could plummet if Wright does not return by the NCAA Tournament.
For Georgetown's sake, Wright needs to return.
The masses are well-versed in Georgetown's struggles when Wright doesn't play well – when he doesn't play, the Hoyas apparently struggle even more.
Photo: US Presswire