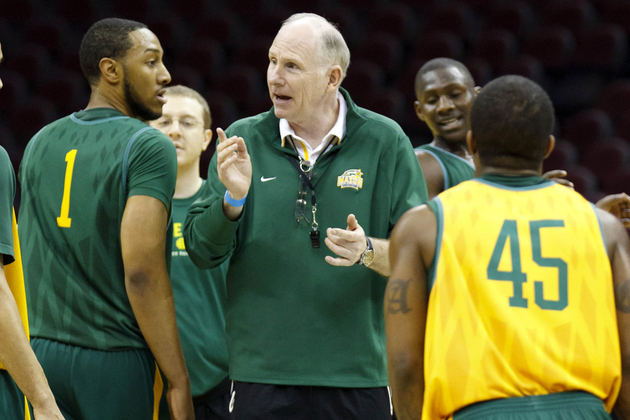 Posted by Eric Angevine


Unless Jim Larranaga really likes golf, there's no way he should take the Miami job. Today's news seems to indicate that
Larranaga will move to Coral Gables
, however.
Over the past couple of days, we've seen conflicting reports coming from Fairfax, VA and Miami, FL.
Trying to follow the developments
has given the poor editor of the George Mason Basketball Blog whiplash.
Gary Parrish of CBSSports.com

just posted this interesting little tidbid

about Coach Larranaga:


"George Mason's Jim Larranaga has had serious discussions with Miami officials about the ACC school's coaching vacancy, multiple sources told CBSSports.com on Thursday. Whether Larranaga is leveraging for a better deal from George Mason or on the verge of actually moving to Miami is unclear, both sources said. But the talks are advanced and ongoing, and the 61-year-old New York native has developed into Miami's top target."

More to come as this story develops. Hopefully it's just some smoke and perhaps Larranaga is trying to get another raise from George Mason. Keep in mind that Larranaga is widely viewed as the ambassador of the CAA (and mid-majors for that matter) and VCU's Shaka Smart is set to make about $500K more per year in his base salary.

Update: Steven Goff of the Post

writes that George Mason granted Miami permission to talk to Jim Larranaga.



Update: According to 106.7 The Fan this afternoon some of the assistant coaches are looking for new jobs. Losing a guy like Chris Caputo would be a huge loss.

Update: Len Robbins from the NY Post reported that Coach L

called a meeting to address the team tonight

. Hard to think this would be for anything other than his departure from Fairfax.

Now Jeff Goodman of Fox Sports

has stated there was so such meeting

at George Mason. Wow.

It's tough to see why Larranaga would take the job, honestly, but it appears to be a reality. No official announcement has come out yet, and we've seen these things fall through at the last minute in other cases (Remember Billy Donovan to Orlando? Dana Altman to Arkansas?), but right now, the indication is that the 61-year-old coach will bolt.
It's easy to see why Miami wants him. He's been to the Final Four, He produces consistent winners, and he does it with integrity. Larranaga showed his priorities in the lead-up to the 2006 miracle season, when he suspended his best player, Tony Skinn, for punching Hofstra's Loren Stokes in the onions in a CAA semifinal loss. The one-game suspension held Skinn out of the 75-65 Big Dance upset of Michigan State that sparked the Patriots' epic run to the closing weekend. Not too many coaches would risk a huge loss to drive home a point to a kid who made a foolish mistake. It makes Larranaga seem like a guy who wouldn't be easily lured into a bad situation by mere money.
There's one other big reason this always seemed like a non-starter. Since 2006, the head coaching job at Providence College has opened up twice. Jim Larranaga played at PC from 1967-71, and seemed like the natural choice to take the job and return his alma mater to glory in the Big East, but each time he's let someone else take the job. If Larranaga doesn't want to return to his roots and rebuild, why on earth would he take a similarly difficult task in the ACC, far from his well-worn recruiting base?
The suggestion hinted at in the blog post above makes the most sense. Larranaga sees a hot young coach like Shaka Smart getting his just rewards, and he feels he deserves an honorarium. As the godfather of the CAA's growing national profile, he most certainly does, and there's no shame in using Miami's opening to jolt some money out of those who want to keep him happy in Fairfax.
According to the Washington Examiner,
Larranaga has been in contract talks with GMU's AD since the end of the season
. This flirtation with another job should have ACCelerated the process to keep Larranaga at GMU. There's still time, I suppose, but that time could end if an official announcement is made today.
Photo: US Presswire