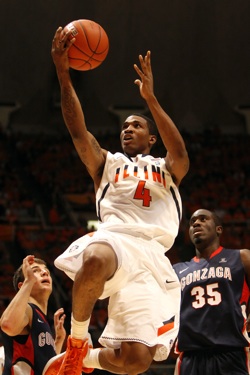 With only hours remaining until Big Ten play begins for Illinois, the Fighting Illini have a last-minute roster adjustment.
Sophomore guard Crandall Head has left the basketball program and will look to transfer, Paul Klee of The News-Gazette first reported.
"I'm just looking for a fresh start," Head told Klee. "I mean, I wanted to stay. But I just can't do it anymore. I didn't feel like it was the right place for me."
Head, a 6-foot-4 guard and the brother of Luther Head, was suspended four games earlier this season for a violation of team rules. He then returned against Lipscomb, but then did not play during the team's trip to Cancun for two games after getting in Bruce Weber's doghouse once again.
"I love the school. I love the atmosphere," he said. "I love everything about it. But when you get there, things start to change."
Head has played in the eight games since, but has only totaled six points on 3-for-14 shooting from the field. Overall this season, he was averaging 1.0 point and 1.0 assist in 9.2 minutes, shooting 23.5 percent from the field.
The Fighting Illini shouldn't miss him too much. Weber has plenty of perimeter options, with D.J. Richardson, Brandon Paul and Sam Maniscalco all entrenched in the starting lineup. Joseph Bertrand and Tracy Abrams have been consistent options off the bench.
Illinois is 11-2 this season, including a win over Gonzaga.
Photo: US Presswire