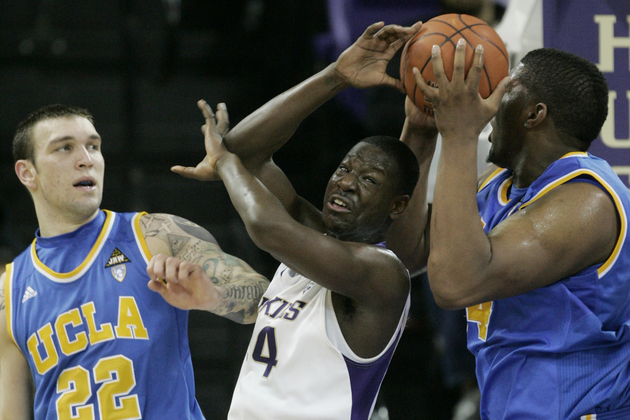 Posted by Eric Angevine
As has happened so many times over the past few years, the UCLA program has been stripped of future promise by the lure of the NBA. Tyler Honeycutt and Malcolm Lee bolted the program this spring, leaving Ben Howland to build a roster with youngsters, transfers and breakout junior-to-be Reeves Nelson.
What Howland has plenty of, this season, is size. Nelson is 6-foot-8, Josh Smith is 6-10, and the Wear twins -- ready to play after transferring from North Carolina -- clock in at right around 6-10, 230 pounds apiece. That's a lot of beef, so where do all the minutes go?
Doug Haller of the Arizona Republic reports that UCLA radio recently interviewed Howland, and found out some of the head coach's plans for his embarrassment of riches in the post. Seems second-year player
Josh Smith will be the fulcrum that the Bruins' offense teeters upon
.
"Josh, 1-on-1 in the low post, is unstoppable by another college player," Howland told UCLA Radio.

"He's just too big, too strong. You don't have guys like that often. The only other guy we've had like him was Kevin (Love.) Kevin was unstoppable 1-on-1 in the low post and Josh is the same deal. So it's really going to be nice for the perimeter players, because if (opponents) don't double on him, if they don't help on him, then it's over. He's going to score."
Even though Honeycutt and Lee were the team's best three-point gunners last season, that means Howland plans to play more four man motion in 2011-12, with the other players on the floor serving more of a perimeter role while Smith bangs inside. Nelson and Travis Wear will be the other nominal frontcourt players, while David Wear will shift into a small forward role, according to Howland.
Haller wrote "(The move to small forward will place David Wear) in a group of perimeter players that includes Lazeric Jones, Jerime Anderson, Tyler Lamb, freshman Norman Powell and junior college transfer De'End Parker."
While the notion of depending on Smith to play up to his potential might cause concern to Bruins fans, that backcourt rotation highlights a problem that Howland has had ever since Russell Westbrook bolted the program in 2008 - no obvious solution at point guard. Smith can play like a conference first-teamer next season, but if there's nobody on the roster who can get the ball where it needs to be, motion will be dead in the water.
Jones and Anderson shared the job fairly well last season, with Jones taking the slight edge; averaging 28 minutes, 9.1 points and 3.6 assists per game. The 6-8 Honeycutt actually did a pretty good job of facilitating the offense as a forward, averaging 2.8 assists per, but, as noted previously, he's gone. Howland will have to wait a year for his other UNC transfer, Larry Drew II, to be eligible to help out.
Howland's a smart guy, and he's had to learn all kinds of methods to adapt to his fluid lineups over the volatile years since Westbrook and Kevin Love left the program. This should be an interesting experiment to watch, as the inaugural season of the expanded Pac-12 gets underway.
Photo: US Presswire