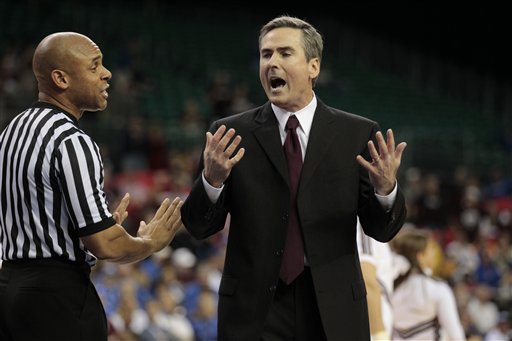 By Matt Norlander
Yep, I've gotta be the guy who asks everyone to settle down. Used to be, in sports blogging, these kind of posts were of the against-the-grain variety. Now they're standard protocol, which is a good thing; the majority's gotten the gist of the importance of patience and the resistance to OMGREAXTION blogging.
That said, I think there's a desire to try and bring Rick Stansbury's team down as quickly as possible. Is any team as likely to be a target for criticism as the Bulldogs this year? A few (Memphis, Duke, Vanderbilt) will be quickly pilloried if they falter, but the history and baggage that comes with the Bulldogs means they're the ripest. They've earned it, and in time, if they stumble, we'll all have our chance to whip them.
But the way I see it: Tonight's 68-58 final was a great win for Akron; not a miserable loss for Mississippi State. Although Stansbury's team lost to a program that hadn't defeated a BCS-league team since 2008, it's just an early-November game with a few caution flags getting tossed up.
The biggest being Renardo Sidney sitting 15 minutes -- and down the stretch of the game -- despite only having two fouls. Sidney finished with 12 points and five rebounds, but most were scratching their head over why he wasn't in the game when Akron big man Zeke Marshall fouled out with 3:17 to go. Dee Bost was way too inconsistent, too. The team was out of sorts. But let's not allow rust lead to unrest.
The Bulldogs could get this turned around as easily as they could let it slip to hell. Doesn't mean Dee Bost can't be consistently erratic all year, or that Sidney has the potential to actually upstage his car-wreck quality into the full-on train variety. Good teams often lose early, even to inferior teams. Is Mississippi State a good team? Don't know yet, and neither do you. Let's huddle up after Thanksgiving and check the evidence then.
Photo: AP