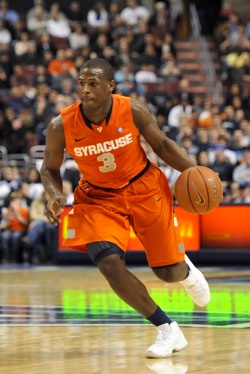 SYRACUSE, N.Y. – Dion Waiters entered his freshman season at Syracuse with plenty of hype, ranked as a top-25 recruit by many outlets.
However, much of the news surrounding him during the season was negative. There were reports of him being dismissed from the team in January and rampant rumors regarding him potentially transferring after the season.
Going into his sophomore campaign, though, Waiters is still in an Orange uniform and could be one of the keys to the season for a top-five Syracuse team.
"Dion has his head right," senior guard Scoop Jardine said.
Although Waiters denied most of the rumors during the offseason, he admitted to CBSSports.com last week that the idea of leaving Syracuse did cross his mind.
"I was thinking about it," he said. "I'm a competitor and I wanted to start. That's what it was."
Last season, the 6-foot-4 guard from Philadelphia averaged 6.3 points in 16.3 minutes off the bench. He did not start a single game, and was held out of a late-January loss to Marquette.
With Jardine and Brandon Triche both returning as starters in the backcourt, is Waiters ready to take a back seat to the two veterans again?
"It's not about me this year," he said. "Last year, I put myself before the team. I was selfish."
Waiters said he spent off the season working on his fitness and athleticism; his explosive scoring ability is still there too. Coming out of high school, Waiters was one of the best scoring guards in the country – he has a chance to provide a consistent spark off the Syracuse bench this year.
"I think he can play a bigger role," freshman guard Mike Carter-Williams said. "He's a great player."
Humbled by the events of last spring, Waiters is hungry to help the Orange get to the Final Four.
"I feel like a freshman again," he said. "Watch out."
Photo: US Presswire