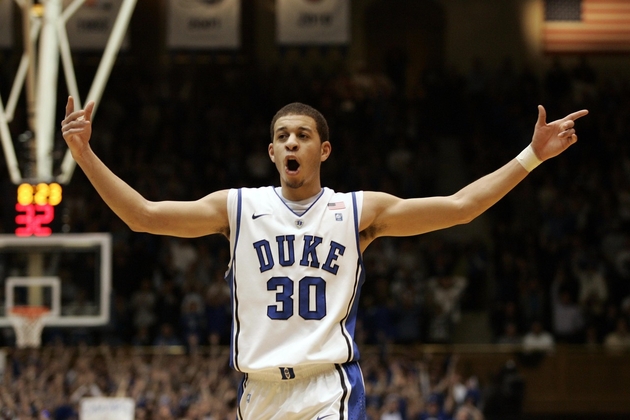 Posted by Eric Angevine

I really had no idea that Seth Curry would put on such a show in his first Duke/UNC game, but I had determined ahead of time that he was one of the players I would watch closely during the contest. In a way, I felt uniquely qualified for the task.
Two years ago, Seth Curry was a freshman at Liberty University in Lynchburg, Virginia. Plenty of writers were watching to see what he would do, because he was Steph's little brother, but it was very much wait-and-see. Since I lived just an hour away from the LU campus, and was trying to build a basketball writing career by applying a little hustle, I decided to drive down there and do a feature on the kid before anyone else got motivated to do so. My video interview with him ended up being
turned into a short feature
that was run on ESPNU during that year's Bracket Busters matchup between Liberty and ODU.
But enough about me. Here's what I learned from that experience.
When I visited Liberty, I saw a kid who looked downright bored on the court. It was easily disguised as a sort of unflappable cool -- it runs in the Curry family, after all -- but the game in the Big South was just too easy for Seth. He wasn't being challenged by the competition, and was unlikely to reach his true potential in that situation. Odds are, the same held true in the classroom.
Fast forward to last night's game, and you'll see the same kid: still cool under fire, but bursting with confidence and joy that could not be contained as the night wore on. Today you'll see photos of him laughing with his arms outstretched, or letting loose a primal scream after the biggest win of his career (thus far). The level of play he's seeing in the ACC engages his competitive fire in a way that Liberty probably never could have.
Now, that's not Liberty's fault. The small, faith-based college wisely picked up a player that never should have been within their reach in the first place. Seth Curry, like Stephen before him, belonged in the ACC from day one. Roy Williams could have likely turned the tide of last night's game two years ago had he (or any other ACC coach) made a serious run at Dell's second son two years ago. Curry's ascension to the limelight may have come a little late, but at least it happened, and that course correction has been good for Seth and for anyone (outside of Chapel Hill) who watches him play the game.