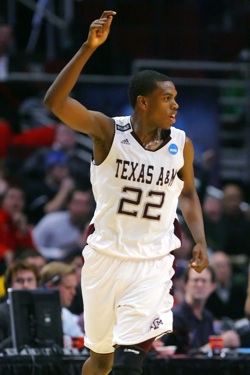 The personnel shakeups in college basketball over the past few weeks have been alarming. There have been freshmen declared ineligible, players suspended for rules violations or NCAA issues and now injuries are beginning to hit a few contenders as well. Several players missed games over the weekend due to injury; are they replaceable?
Khris Middleton, Texas A&M
On Friday, Texas A&M announced that leading returning scorer Khris Middleton (right) had a partially torn meniscus in his right knee and would miss 3-4 weeks. Middleton, a 6-foot-7 forward, averaged 14.4 points and 5.2 rebounds last season, and already had six points in the opener before suffering his injury. In his place, Ray Turner has stepped up his offensive production. Turner isn't as athletic or the inside-outside option that Middleton is, but he scored 20 points in each of the first two games and also grabbed 14 rebounds.
Jordan Green took Middleton's place in the lineup, providing a little bit of everything at the guard position. Fortunately for Billy Kennedy, the Aggies have plenty of depth to replace Middleton for the near future. A&M does head to Florida on Dec. 17; Middleton would certainly help the Aggies' chances in Gainesville.
Mike Marra, Louisville
Louisville continues to get hit with the injury bug. Rakeem Buckles was already out until at least mid-December while freshman Wayne Blackshear will also miss the next couple of weeks. Stephan Van Treese is also still out with an injury. The news got worse on Sunday, as Mike Marra tore his ACL and will sit out the rest of the season. Marra was a good weapon off the bench who could come in and knock down jump shots.
Heading into the season, the Cardinals were overflowing with wings. Now, sophomore Russ Smith and freshman Angel Nunez might need to play more minutes than expected, while Jared Swopshire could see some time at the three. When Blackshear does return, he will have a chance to make an impact immediately off the bench.
Festus Ezeli, Vanderbilt
With Festus Ezeli, it's a matter of suspension and injury. He was suspended for the first six games of the season, but then sprained his MCL and PCL and will miss six-to-eight weeks. Vanderbilt clearly misses its best inside player, as the Commodores looked stagnant offensively and lost to Cleveland State on Sunday, 71-58. The 6-foot-11 Ezeli averaged 12.8 points and 6.2 boards last season, and the Commodores are having a tough time replacing him.
Steve Tchiengang took Ezeli's place in the lineup, and he has totaled nine points and 12 rebounds in two games. He's a physical presence on the glass, but he lacks offensive ability. Jeffery Taylor is more of a perimeter threat, while Lance Goulbourne is not one to do much with his back to the basket. The only other frontcourt option is Rod Odom, another face-up player. Vandy needs to bide its time until Ezeli returns, relying on the perimeter group more than ever.
Short-term absences
Erick Green, Virginia Tech: With freshman Marquis Rankin already out, Green was expected to take on more of a point guard role. However, he missed the opener against East Tennessee State with an Achilles injury. He is a game-time decision for Monday night's game against Monmouth. Without Rankin and Green, the Hokies struggled to control the ball, racking up more turnovers than assists. Sophomore Tyrone Garland better be ready. Tech is also without forward J.T. Thompson, who will miss the entire season with an ACL tear in his right knee.
Renardo Sidney, Mississippi State: Who really knows with Sidney at this point? He missed Saturday's game with a groin injury, but head coach Rick Stansbury also said he was "sick" at one point. Arnett Moultrie stepped up in his absence, going for 28 points and 13 rebounds. Center Wendell Lewis saw an increase in minutes, but he is more of a factor on the boards and on the defensive end. Sidney should be back soon, but his attitude and conditioning is more of a concern than his injury.
Sammy Zeglinski, Virginia: The Cavaliers kicked off their campaign with a 37-point victory over South Carolina State on Sunday. Zeglinski, who played nearly 26 minute per game last season, missed the game with a sprained ankle. In his place, Jontel Evans handled the position effectively. The two split time last season, and Evans puts on more pressure at both ends. Zeglinski can play off the ball as well, and his injury isn't expected to keep him out.
Photo: US Presswire
More College Basketball coverage