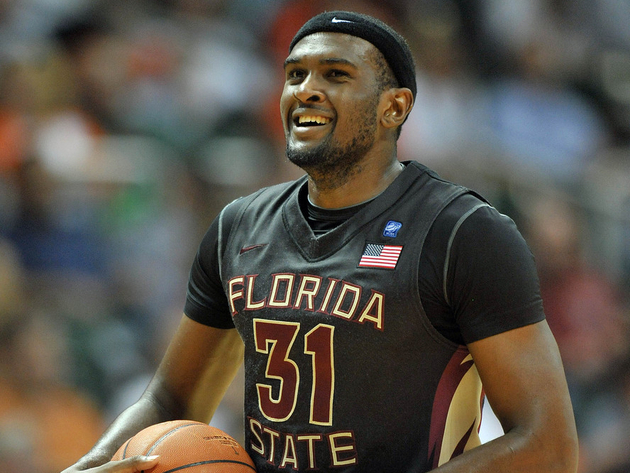 Posted by Eric Angevine


Florida State won a game, but still suffered a loss the team can't afford.
In a 63-56 win over Virginia, star forward Chris Singleton (above) broke his right foot when he came down on another player's foot. He'll have surgery as soon as possible, in hopes that his recovery will be complete in time for him to return to the court by the end of the season.
FoxSports.com's Jeff Goodman points out that
the remaining schedule for FSU
could help that process along:
Florida State has a week off before traveling to ACC cellar dweller Wake Forest, then they finish with games at Maryland, ay home against Miami and North Carolina and road game to end the regular season at N.C. State. The only team in the top half of the league is North Carolina.
Senior guard Derwin Kitchen is the second leading scorer for the Seminoles, averaging just over ten points per game in 30 minutes of play. In the game against Virginia, he scored only 3 points, playing largely without Singleton, who was injured after ten minutes of the first half had elapsed. 6-foot-5 junior guard Deividas Dulkys played 32 minutes off the bench and scored 9 points with 7 rebounds.
FSU has established itself as the third-best team in the ACC behind Duke and North Carolina, and should be in the NCAA tournament barring a complete collapse to finish the season. The defensively superior squad will struggle to score without Singleton in the lineup, however, and could be in serious jeopardy of a lower seed and an early exit from the Big Dance if Singleton is done for the season.