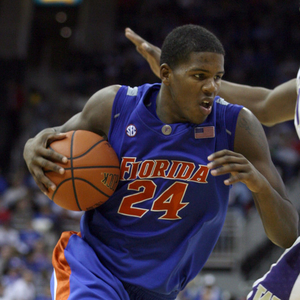 Posted by Eric Angevine
While I often wonder how Seth Greenberg keeps his job at Virginia Tech despite uneven play and just one NCAA tourney trip in seven seasons, a case can be made for his career to date. There's little doubt that his teams have often started out loaded and been whittled away by injuries and other health concerns. Last season's Hokie team was picked by some to finish second in the ACC, based on a deep and talented roster that boasted several experienced, quality big men.
By December, that light had gone out
, with Cadarian Raines, J.T. Thompson and Terrell Bell injured and Florida transfer Allan Chaney (right) unable to play due to side effects of a heart virus.
That lack of depth persists this season, as much of last year's roster has graduated. Jeff Allen, a second-team all-ACC forward, has completed his eligibility, leaving defense-minded Victor Davila -- a 5.3 points per game career scorer -- as the primary active holdover from last season's roster.
Unless... unless Chaney can actually come back from myocarditis. We've seen
Emmanuel Negedu get a brief second chance
at New Mexico after Tennessee refused to clear him, and Seton Hall's Herb Pope averaged over 27 minutes per game after a scary collapse that
actually stopped his heart
last spring. Chaney certainly thinks he can be there to help his team get over the rebuilding hump next season, according to
David Teel's blog for the Newport News Daily Press
:
If you follow Chaney on Twitter @AllanChaney3, you know that he's very encouraged after three days of unspecified tests this week in Philadelphia. In a tweet addressed to "Hokie Nation," he said, "2nd and last test went great! Another step forward! Lettttttts goooooo."

That's the voice of a 21-year-old who dearly misses basketball and would ball this afternoon if doctors permitted. Suffice to say, Tech's medical staff will tread far more cautiously and slowly.

This is, after all, Chaney's heart, not a hamstring. He fainted after an April 2010 workout in Blacksburg, and doctors hoped the tests in Philadelphia would determine whether Chaney needs an internal defibrillator.

If he does, his basketball career likely is over. If he doesn't, maybe there's a chance.


The real issue at this point is the scarring around the heart muscle that Chaney suffered as a result of the infection. In an interview with the Richmond Times Dispatch, Tech
team doctor Mark Rogers was more cautious than hopeful
. "A lot of people that have myocarditis don't end up having the scarring that Allan did," Rogers told the newspaper on May 6. "Unfortunately, he did. These things can take months to years to resolve. He's still in the midst of all this stuff. Of course, we would like for him to get healed quicker and be back on the court, but it's not an unreasonable length of time to this point."
Waiting is the hardest part, even more so when you're a 21-year-old kid who has already missed a season for medical reasons on top of an NCAA-mandated transfer year. If Chaney can come back, he'll revive hope for another season, joining Thompson and Raines in the frontcourt, and in competition for the team's comeback player of the year award.
Actually, I don't know if Virginia Tech offers a comeback player award, but if Chaney can come back and contribute meaningful minutes without endangering his health, the Hokies should definitely consider creating one.
Photo: US Presswire