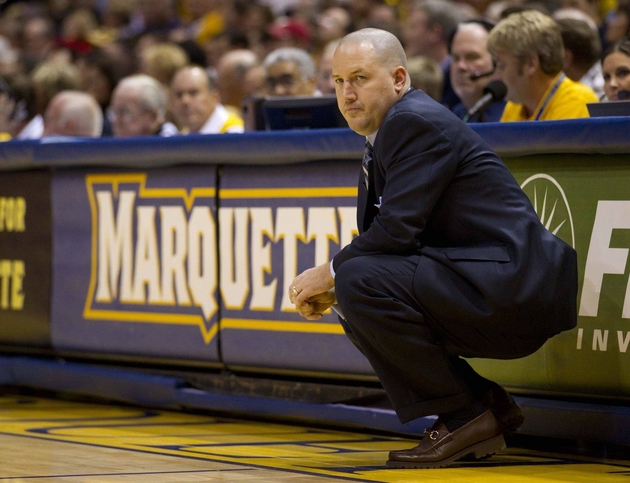 Posted by Eric Angevine


So, Pat Knight is out at Texas Tech. Not too surprising. He had the same impossible task Sean Sutton had when he took over a Big 12 program from his Hall of Fame father, if not worse. The Red Raiders don't have anywhere near the hoops pedigree that the Oklahoma State Cowboys do, but their expectations are now sky-high because they once got lucky and hired Bobby Knight for a cameo appearance.
I suspect the younger Knight will get another chance. But where does the Texas Tech administration turn now? Newspapers across the Lone Star state are throwing out wish lists, so let's examine some of the more rational suggestions:
Billy Gillispie (Ronin):
His name always comes up first, and for good reason. The guy was a barn-burning success at UTEP and Texas A&M before he got in over his head at Kentucky. Texas is his home state, and he'd likely be welcomed back into the Big 12 with open arms. Billy Clyde looks like the top choice right now.
Buzz Williams (Marquette):
Another straight-shootin' Texan, which is why his name seems to come up when locals start dreaming. I don't know how much money Tech has to spend on this kind of hire, but I'd have to think it would take a pretty good upgrade to entice Williams from the powerful Big East to an also-ran in the shrinking Big 12. They'd love his free-wheeling style down in Lubbock, though.
Joe Dooley (Kansas):
If you can't beat 'em, hire 'em. Dooley's is one of the top names to come up for every open job when assistant coaches are interviewed. He has a pretty good deal where he is, and he's seen other former KU assistants (Tim Jankovich at Illinois State being the most recent) struggle to succeed when disconnected from the Allen Field House magic. Then again, he probably doesn't want to wait forever, and the Big 12 is a soft landing no matter what.
Doc Sadler (Nebraska):
I scoffed the first time I read this, then it came up again and again. He's a former Red Raider assistant who is well thought of at the school, so maybe they will make a run at him. Sadler would have to judge for himself if the risk is worth it: is he jumping before he is pushed out of the Big Ten-bound Husker program, or is he giving up just before new facilities and a new conference home turn things around?
These are the most frequently mentioned names for the gig, and it's not a bad list. The issue at this point will be finding the right fit vs. reaching for the exciting, sexy headline pick. Which is not to say that the headline pick is always a fraud - look at Steve Lavin's first year at St. John's for proof that it can work. But there might be an assistant coach out there, perhaps someone as near as Rodney Terry or Russell Springmann from Texas, who is the right fit for the job, yet won't get his due as a candidate because he's not a big name. We watched other large-conference schools (Oregon, DePaul and Wake Forest come to mind) go through this last summer only to be turned down repeatedly.
Having just attended the CAA final yesterday, I'd like to throw another name into the hat. Old Dominion's Blaine Taylor is not a Texan and has no ties to the state that I'm aware of. But the former Montana Grizzlies point guard just won back-to-back conference championships, can recruit, coaches tough defense and has a way with the media. If his team pulls another upset or two in the NCAA tournament this season, he'll be a very hot commodity. Someone at Tech should have the vision to look far and wide to find Taylor and others like him who might be ready for the next step, regardless of name recognition.
Updated NCAA Division I coaching changes
Photo: US Presswire