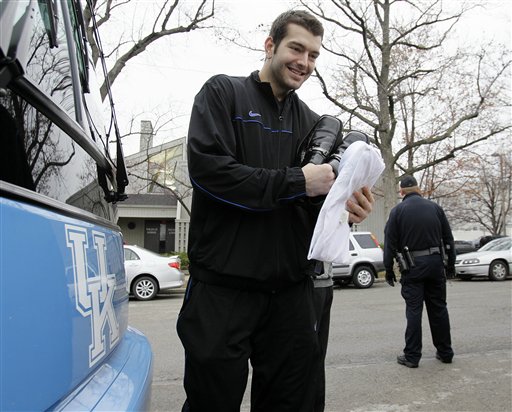 By Gary Parrish
Josh Harrellson was among the fan favorites on last season's Kentucky team that made the Final Four -- and that was before he started stopping drunk drivers.
"About four or five of us guys jumped on the truck and reached in there and turned the keys off," Harrelson
told WKYT while detailing how he and some friends recently stopped a drunk driver
-- with children in the backseat -- from hitting a third vehicle. The man had already hit two vehicles in a parking lot moments after starting his car. One of those vehicles was Harrellson's truck.
"We were just worried because he could have put it in drive at any time and maybe ran somebody over, or while our arms were in the car, just kept going and we could have been drug or something," Harrellson said. "I'm the type of guy that, I want to make sure everybody else is alright. ... I'm fine. My truck got hit. That's replaceable. I was just thankful nobody got hurt and the kids were fine."
So add this to the list of impressive things Harrellson has done in the past year.
I'd even rank it ahead of the 23-point, 14-rebound effort he had at Louisville.
I bet
MADD
would, too.
Photo: AP