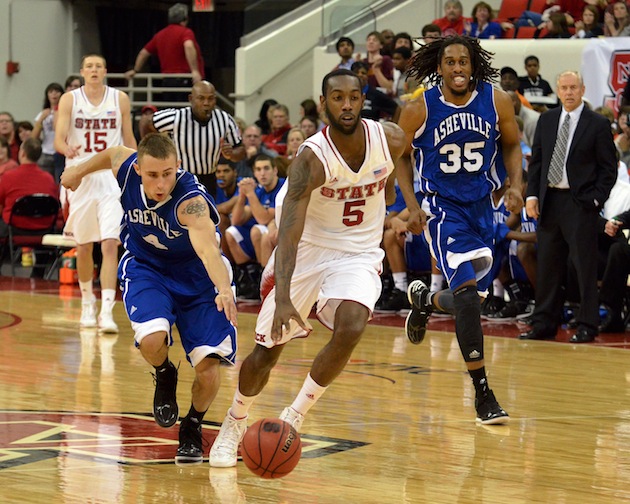 North Carolina State announced on Friday that forward C.J. Leslie will sit out the first three games of the season due to receiving impermissible benefits.
Leslie and his half-brother accepted $410 from a friend after a car accident last May. The friend, a former NC State student, allowed Leslie to borrow his car and also paid an apartment application fee for Leslie's half-brother.
NC State reported the violations to the NCAA.
"I understand the issue and regret what has occurred," Leslie said. "I will support my teammates in every way possible and look forward to getting back on the court."
Leslie missed the Wolfpack's 84-75 win over UNC-Asheville on Friday, and will also be on the sidelines for Sunday's contest against Morehead State, and Wednesday's game against Princeton.
He averaged 11.0 points and 7.2 rebounds per game last season.
Glen Rice Jr. suspended for violating team rules
Shortly before Georgia Tech opened its season against Florida A&M, head coach Brian Gregory announced that Glen Rice Jr. had been suspended for three games for a violation of team rules.
Gregory did not get into specifics.
"The guys are learning that there are consequence, but there's also going to be growth," Gregory told reporters after the Yellow Jackets' 92-59 victory. "We're here to help him grow from this."
Rice Jr., a 6-foot-5 swingman, averaged 12.8 points and 5.6 rebounds last season. He sat out last night's game and will also miss next week's matchups against Delaware State and Saint Joseph's.
Marquette's Juan Anderson suspended for three games
The NCAA has suspended Marquette freshman forward Juan Anderson for three games because he accepted a free ticket to a Brewers' playoff game.
The Golden Eagles self-reported the violation.
"My college eligibility is much too valuable for me to risk," Anderson said.
The freshman from California had been receiving rave reviews for his performance in early workouts and practices.
Photo: US Presswire
More College Basketball coverage