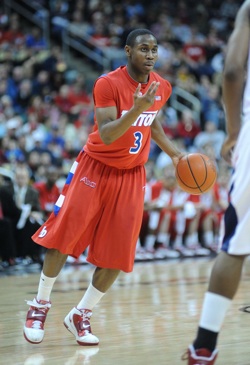 Posted by Jeff Borzello
West Virginia has had good luck with transfers and Twitter.
First, La Salle transfer Aaric Murray announced on Twitter back in early May that he would be attending West Virginia.
On Saturday afternoon, the Mountaineers struck again. Former Dayton transfer Juwan Staten, who had committed to Penn State before Ed DeChellis left for Navy, decided to head to Morgantown to play under Bob Huggins.
"After this long wait I have finally decided where I will finish out my collegeiate basketball career," Staten tweeted. "West Virginia University!"
Staten, a 6-0 point guard from Ohio who played at Oak Hill Academy (Va.), averaged 8.5 points and 5.4 assists during his freshman season at Dayton. He left the Flyers in late March, saying he did not feel the program was the right fit for him.
One month later, he announced (also on Twitter) that he would be attending Penn State. When DeChellis surprisingly left the Nittany Lions for the vacant head coaching position at Navy, Staten immediately opened his recruitment.
Staten will sit out next season, along with Murray, but will have three years of eligibility remaining at West Virginia.
Photo: US Presswire