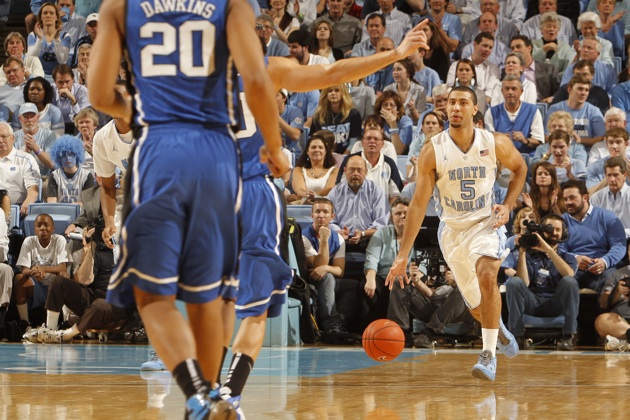 After the Duke loss, UNC's Kendall Marshall said the team had never been taught how to close out games. (US Presswire)
Ever since North Carolina collapsed in the final two and a half minutes against Duke last week, we've been hearing that the Tar Heels don't have a killer instinct and can't put away teams down the stretch.
Sophomore point guard Kendall Marshall's quote to the Durham Herald-Sun won't help matters.
Marshall said former Tar Heels guard Shammond Williams came by practice on Friday and talked to the players about finishing games out.

"He just asked us, 'Has anybody ever explained to you all how to manage a game? You know, how to win a game?'" Marshall said. "And as weird as the question sounds, no."
Let's be clear: I don't think Marshall is saying that the Tar Heels have never practiced late-game situations or run plays to get baskets late in the game. Every team does it (no matter what Larry Drew said two years ago.)
It seems more along the lines of executing down the stretch, having the mental toughness to turn a close game into a comfortable lead late in games. Not letting lesser teams back into games – things that championship teams do on a regular basis.
This season, North Carolina is 1-2 in games decided by three points or fewer. Interestingly, the Tar Heels went 8-1 in those games last season – when the lineup was a year younger and less experienced.
Marshall also added that UNC worked on using the clock late in games after the Duke game – and it worked against Virginia over the weekend. They turned a close game into an 18-point win, ending the game on a 13-2 run.
If the Heels can get the mindset to essentially step on a team's throat when they're down, their Final Four aspirations will get a nice boost.