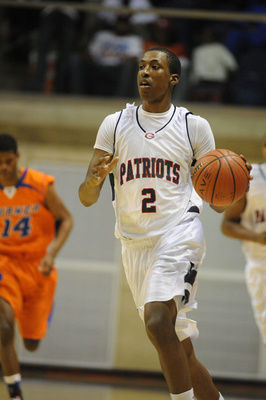 When Georgia signed Kentavious Caldwell-Pope, it was clear that the Bulldogs were back to being a factor in the Peach State and beyond. Caldwell-Pope was rated a five-star prospect by most services, and was the highest-profile recruit Georgia had signed in years.
According to a source, though, Caldwell-Pope is still awaiting clearance from the NCAA for the fall.
He was cleared academically by the NCAA Eligibility Center, but the jury is still out pertaining to the case involving a former AAU coach allegedly paying the phone bill of his mother.
"He will not play until his AAU issues have been resolved by the NCAA," a source told CBSSports.com.
In June, the Ledger-Enquirer (Ga.) reported that Caldwell-Pope and Georgia football player Jarvis Jones received extra benefits from two people who ran the Georgia Blazers, a Nike-sponsored travel team.
Jones was cleared in August to play, but Caldwell-Pope's case still hasn't been resolved.
In a similar case last year, Baylor forward Perry Jones was suspended six games when the NCAA determined his AAU coach gave extra expenses to his mother and paid for a flight.
"No idea how this will turn out," the source said. "But his case is surely taking much longer to resolve than Jarvis Jones'."
Photo: Bleacher Report