A year ago, Lehigh lost on a last-second shot at Bucknell in the semifinals of the conference tournament. This season, the Mountain Hawks got revenge, going into Lewisburg, Pa. and knocking off the top-seeded Bison, 82-77, to win the Patriot League championship and getting an automatic bid to the NCAA tournament.
Player of the Year C.J. McCollum went for 29 points and five assists, while forward Gabe Knutson had one of the best games of his career, finishing with 23 points and seven rebounds. The Mountain Hawks were able to speed up the tempo, and didn't let Bucknell make it a half-court game.
Lehigh, coached by Brett Reed, has been consistent throughout the season, suffering only bad loss in the non-conference season and losing to no one outside the top four of the Patriot League. The Mountain Hawks won their final five games of the regular season, including a road game at Bucknell that gave them confidence heading into the title game.
This team pushes the tempo, but takes care of the ball and has several guys who can knock down 3-pointers. With McCollum leading the way, the Mountain Hawks won't back down.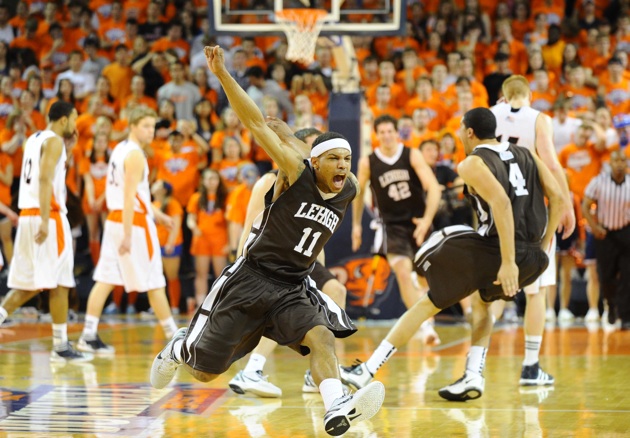 Lehigh went onto the homecourt of top-seeded Bucknell and won the Patriot League title game. (US Presswire)
Player to know: C.J. McCollum. A two-time Patriot League Player of the Year, the 6-foot-3 junior guard is one of the most productive all-around players in the country. He has scored at least 20 points in 11 of his last 12 games, and is also a tremendous rebounder for his size. McCollum also creates for others, too. In games against St. John's, Iowa State and Michigan State, he averaged 18.0 points per contest. He is capable of carrying the Mountain Hawks.
The Vitals:
Record: 26-7 overall, 11-3 in Patriot
Most recent tournament appearance: 2010, No. 16 seed, lost to Kansas 90-74 in the first round.
We're thinking: 15 seed.
KenPom ranking: 88
Sagarin ranking: 97
RPI: 101
Best wins: Bucknell (2), Wagner
Worst losses: Cornell, Holy Cross
Notable stat: Lehigh could be tough in a close game. The Mountain Hawks rank second in the country in free-throw percentage, at 77.8 percent.
-- Jeff Borzello