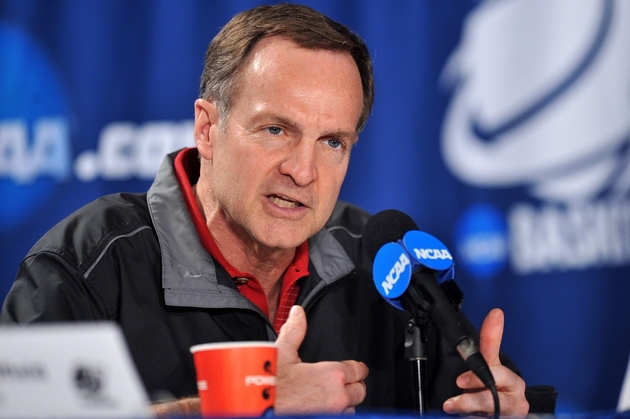 Posted by Eric Angevine

Coaching changes seem to be cyclical in nature. Each season, one of the power conferences goes through a sea change in leadership. Last season, the Big East and ACC cleaned house a bit, and this season it's the Big… whatever. Twelve doesn't make sense any more.
The changes in the Texas League (now there's a moniker that makes sense) will seem even more seismic due to the departure of Colorado and Nebraska for other conferences this summer. Of the ten programs that remain in the former Big 12, thirty percent just swapped one head dude for another.
One aspect of the Big 12 situation that has been a huge positive so far is that each coaching search was wrapped up quickly. For good or ill, these programs know who will be in charge and on the recruiting trail this summer, and returning players can get to know the new guy, which could stop the flow of transfers before it ever starts. Certainty is always better than uncertainty in these cases.
Let's look at those three programs in transition and assess how they did with the hiring process, using the ever-popular letter grading system.
Oklahoma Sooners: A-
Out: Jeff Capel (96-69)
In: Lon Kruger (479-304)
Jeff Capel was obviously a strong recruiter who had a hard time keeping his horses in the corral once he got them on campus. This is not unfamiliar territory at the University of Oklahoma. The mixture of early entry with alleged malfeasance was a bad combo for a school that had some of the same issues under Kelvin Sampson. In that respect, Kruger is an excellent hire: he seems to be a guy who is in complete control of any program he's coached, and there have been plenty of success stories in his time on the bench.
Kruger was born in Kansas, so he'll be near home. After a middling record at Texas-Pan American (which is pretty impressive, really), Kruger took over at Kansas State in 1986 and immediately guided the Wildcats to four straight NCAA appearances, including an Elite Eight appearance in '88. That led him to a rebuilding gig at Florida, a school he turned into an NCAA tourney program as well. Then Illinois (three Dance invites in four years) and some time in the NBA. His return to the college ranks with UNLV went pretty well, with four appearances in seven years and another Elite Eight.
The only thing that makes this an A- in my mind is Kruger's age, but that could be ameliorated by the fact that he brought along a former player, K-State kamikaze Steve Henson, as an assistant coach along with another possible future successor. If Kruger can establish a foothold and leave the program in good hands, this is an excellent hire for the Sooners.
In essence, the Sooners get a coach on the brink of his 500<sup>th</sup> victory in exchange for someone who still has a lot to learn. Kudos to Oklahoma AD Joe Castiglione for going after the man he really wanted for the job and making it happen.
Texas Tech Red Raiders: B
Out: Pat Knight (50-61)
In: Billy Gillispie (140-85)
I wrote before that I think Pat Knight seems like a pretty good guy who probably will be a good coach. This was just too much for a first job. Texas Tech is hardly a plum – even Pat's legendary father struggled to get good recruits there, and only went to the NCAA tournament four times in seven years. Knight will have a chance to show what he can do in the future, and possibly earn a shot at something better down the road.
Gillispie, despite his baggage, is probably about as good a get as Tech could expect. Looking at his career as a whole, it's clear that Kentucky was an aberration – a pressure cooker that has jellified any number of capable coaches since Adolph Rupp's day. In fact, it may have been a blessing in disguise. Gillispie was forced to deal with his alcohol abuse issues, and may, in fact, come back stronger than before. Look at Bob Huggins for a best-case scenario.
Gillispie does really well in Texas, and he could take Tech somewhere it's never been before. He did it for UTEP and Texas A&M, and he can probably, somehow, do it for the Red Raiders.
Missouri Tigers: D+
Out: Mike Anderson (200-98)
In: Frank Haith (129-101)
The unscientific consensus amongst hoops writers I spoke to at the Final Four is that this hire is a loser at the press conference that could end up being a winner on the court. The likelihood is that it will fall somewhere in between the Quin Snyder years and the success the Tigers enjoyed under Anderson's tenure. It's worth noting, however, that Mizzou never exactly became a Big 12 powerhouse under Anderson. A third-place finish in 2009, with attendant Elite Eight appearance, was as good as it ever got. So let's not put too high a shine on the guy just yet.
Haith, on the other hand, doesn't even look that strong. Very few Miami coaches do, so let's take that as a caveat. Before Haith led the team to a 23-11 mark and a tourney appearance in 2009, the Hurricanes hadn't exactly been a rocket to the stars. Leonard Hamilton, with three straight good seasons between 1998 and 2000, was the only coach to have made something out of the gig.
The thing about Haith is that he was a Rick Barnes assistant, and he'll be back closer to his Midwestern recruiting grounds, where he did so well for the Texas Longhorns. Whether his previous success owed more to his personality or the profile of the school he was representing will be the key thing Mizzou fans will be holding their breath to find out.
Kansas State: Incomplete
Frank Martin has admitted that he'd love to be back home in Miami, which would make fans of the program doubly thrilled. Not only do they send Frank Haith off to possibly be one of the worst coaches in the Big 12, but they could get one of the league's – if not the nation's -- best coaches in return? Win-win all the way. Obviously, the Florida school pretty much has to put together exactly what Martin wants to lure him away, and K-State will probably try to do the same in order to keep him. The lure of home (and much shorter recruiting trips) could be the fulcrum this turns on.
If Martin leaves, the whole picture gets murky again. But for now, the conference seems to be in decent hands. The more concentrated ten-team league becomes a little tougher to win next season. These guys will have their work cut out for them.