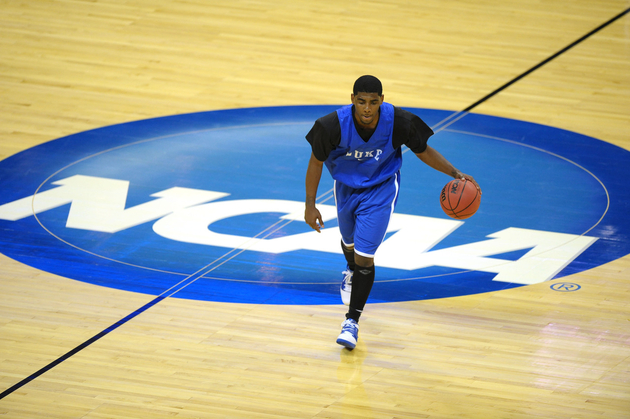 Posted by Eric Angevine


Sometimes, a prevailing attitude or emotion becomes most notable by its absence.
That's what happened this morning when I got on an elevator at the Charlotte Marriott with a couple who were conspicuously not dressed in team gear. When they began to speak to one another in German, I had an epiphany: these people had no idea what was going on here.
They don't care that Kyrie Irving is ready to play today. A discussion of Bruce Pearl's job status would likely elicit a shrug, or a puzzled smile. Their brackets aren't busted.
They were perfectly nice people, but I couldn't wait to get out of the elevator bubble and back with my people. The low-key Michiganders searching for coffee and wondering if the 1-3-1 trap can contain Scotty Hopson. The burly men in red and black Georgia golf visors. Heck, even the purple-clad people of Washington, who allegedly find me less than personable after I chose the Huskies as a possible 2nd-round upset victim a few days ago.
This pod, perhaps more than any other, has been full of off-court drama. Pearl getting a vote of no-confidence from his AD right before his first game of the tournament. Coach K springing Kyrie Irving's availability after weeks of rehab on us
after
we already filled out our brackets. Those are all great stories, and they've kept us occupied while we wait, but today, for a few hours, we'll shift our focus from the big picture to the small. We'll parse out who's
feeling it
according to our own lights. Fans of the Hampton Pirates and Long Island Blackbirds will leap, fist-pump, gyrate and pray that their teams will make history in dramatic fashion.
Thursday showed us what the rest of this month will be like. Enough waiting. We're ready.
Photo: US Presswire