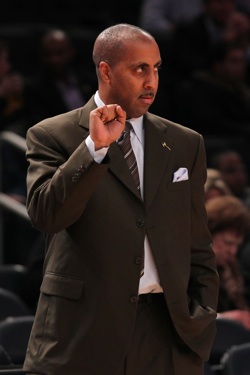 NEW YORK – If one looked at Washington's schedule at the beginning of the year, Saturday's game at Duke wouldn't be classified as a "must-win."
After all, it's Duke, in December, at the Garden. A game the Huskies would like to win, sure, but not a victory they probably needed to have.
Following the Washington's loss on Tuesday to Marquette in the final seconds, though, this weekend's tilt against the Blue Devils became much more important.
"It's a big opportunity for us," forward Darnell Gant said.
In reality, it's more than that.
Washington is now 4-3, with losses to Saint Louis, Nevada and Marquette. The Huskies' best win is over Georgia State at home. If Washington doesn't beat Duke on Saturday, its only chance left for a remotely good non-conference win is against UC-Santa Barbara.
Yes, Washington's best non-league win could be over UC-Santa Barbara – not a guaranteed victory – if it doesn't knock off the Blue Devils this weekend.
"We're aware of that," head coach Lorenzo Romar said. "We have to concentrate on playing our best. We don't tack on, 'Oh by the way, we have to win this – extra.'"
With the Pac-12 in the midst of an extremely down year, the chances of Washington getting a marquee victory for its March resume are getting slimmer by the day. Right now, there's not a top-25 team in the conference, with Stanford possibly looking like the best club.
Come Selection Sunday, which league victory is going to stand out to the committee? Oregon State? A reeling UCLA team? California has looked good, but even the Golden Bears haven't beaten anyone of note yet. Arizona will get better as the season goes on, but when will the Wildcats become a highlight win?
It's almost at the point where, if Washington doesn't beat Duke on Saturday, the Huskies might need to win the Pac-12 title.
"I feel like we have to win every game now," sophomore guard Terrence Ross said. "If we come out with a victory [over Duke], it could really help us in the future."
For his part, Romar isn't putting any extra pressure on his troops heading into Saturday.
"Tonight we didn't finish, but we played pretty well. If we do that, we'll win our fair share," he said. "We won't put it on them, like, if we don't get it, this is it. We'll play our best and see where the chips fall."
Right now the chips aren't falling in an overly optimistic fashion for the Huskies. With that said, last year didn't feature an overwhelming non-conference season from Washington – and the Huskies still made the tournament. Of course, that team won the Pac-10 tournament and might not have made the Field of 68 as an at-large team had they lost to Arizona in the title game.
Moreover, that Pac-10 had Arizona as a No. 5 seed and UCLA as a No. 7 seed. At this point, there's no team in the league that's even a definite at-large candidate.
It's tough to brand any mid-December game as a "must-win," but would Saturday's contest fall into that category?
As Ross answered: "Definitely."
Photo: US Presswire