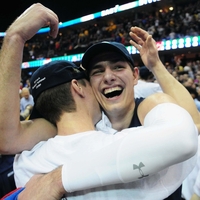 Another chapter in the rivalry between Akron and Kent State is in the books. The No. 6 seed Zips upset the No. 1 Golden Flashes in QuickenLoans Arena to claim the MAC auto bid on Saturday, March 12. The final score was 66-65 after a single overtime period.
Akron used defense to corrall the higher seed. 7-foot sophomore Zeke Marshall led the way with a devastating nine blocks to go with his nine points and 11 rebounds. Kent State was held to just 33.3 percent shooting by the team defense of the Zips as well. Akron guard Steve McNeese was the leading starter with 14 points, and Darryl Roberts kicked in 10. Forward Brett McKnight scored 15 in 23 minutes coming off the bench. Star player Nikola Cvetinovic (right) was held to just 4 points, but he was able to add 10 boards to the impressive overall team effort.
The Vitals


Record: 23-10 (11-7)
Colors: Blue and gold
We're thinking: 15 seed
Kenpom ranking: 124
RPI: 117
Best win: Kent State (twice)
Worst Loss: Eastern Michigan
Interesting stat: Six different players had at least one blocked shot in the title game against Kent State.
Most recent tourney appearance: 2009, Lost to Gonzaga in first round.
Posted by Eric Angevine
Photo: US Presswire