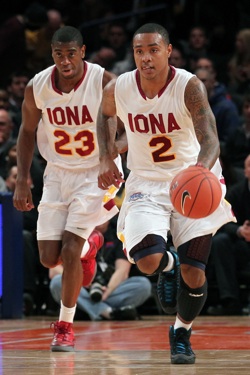 Momo Jones and Iona are beginning to enjoy getting everyone's best shot in the MAAC. (US Presswire)
BRONX, N.Y. – Manhattan had Saturday night's Iona game circled on its calendar. It was on ESPN3, the game was sold out, and they were turning people away at the door.
The Jaspers came at Iona with everything they had, but came up short, losing 85-73 in a battle for first-place in the MAAC.
The intensity and pressure was nothing new for the Gaels.
Iona also received Siena's best shot. And Fairfield's best shot. And Canisius' best shot. And – well, you get the point. The Gaels are clearly the hunted in the MAAC this year.
"We love it. That's the attention we want," guard Scott Machado said. "We go into every game like we did tonight, we'll be fine."
At times this year, Iona hasn't handled the limelight very well. It lost to Hofstra in late December; blew a 17-point lead in the first meeting against Manhattan; and also lost two weeks ago to Siena after leading by 18 at one point.
The similarity of both Manhattan games wasn't lost on Iona head coach Tim Cluess, who realized that the Gaels had jumped out to a big second half lead in each meeting. However, Iona is not the same team it was a month ago.
"Same score, same time – did we grow up or didn't we? And we did," Cluess said.
Iona has had a bad habit of blowing big leads, and then resting on its laurels and allowing lesser teams to comeback in the second half. It cost them twice this season, but the Gaels are realizing all eyes are on them right now.
"We can't take a night off," Cluess said. "Everyone's shooting at us. There's a lot of energy, and so teams are going to play well against us."
Manhattan did play well against Iona for a half, getting 19 points from George Beamon in the first 20 minutes. In the second stanza, though, the Iona defense – a unit that has much-maligned this season – clamped down on Beamon, and the Jaspers' offense struggled mightily.
There would be no miracle comeback and Emmy Andujar buzzer-beater this time around.
"We finished the last several games off better," Cluess said. "Teams are good, so teams are going to have runs. Our job is to answer those runs. And play defense if the offense struggles."
Iona is starting to play the role of villain pretty well. With Momo Jones heating up offensively – he had 43 points in a game last week – and Sean Armand being the team's X-factor, it's no longer just the Machado and Mike Glover show. That should help them in the conference tournament, where the Gaels fell short in the conference title game against St. Peter's.
They're also ready for whatever opposing teams – and crowds – throw at them. On Saturday night, Draddy Gymnasium was hot, loud and hostile.
And Iona loved it.
"I think it worked to our advantage," Jones said. "We fed off of their crowd's energy more than they did."
A month ago, you couldn't have said that about the Gaels. But they're tougher now. They like having a target on their backs.
They've grown up.