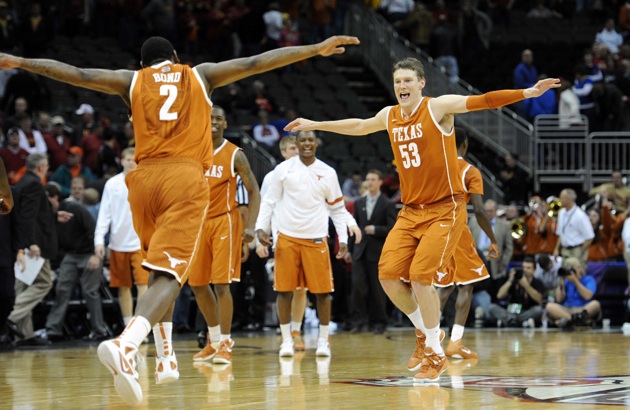 Texas might have locked up a bid to the NCAA tournament with its quarterfinal win over Iowa State. (US Presswire)
The Thursday of conference tournament week is always a big day for separation when it comes to bubble teams. Nearly every power-conference bubbler is in action across the country, with most of them facing must-win opportunities or one last chance at a marquee victory. This season is no different, as the docket is filled with teams looking to punch their ticket or simply keep their at-large hopes alive. The bubble picture should look very different tomorrow than it does today.
Note: This page will be updated throughout the day, with bubble discussion and analysis.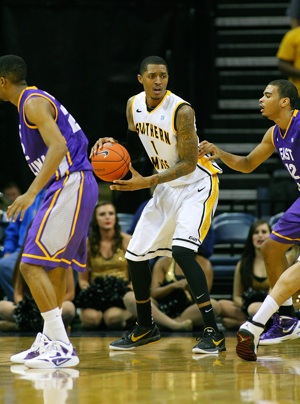 Southern Miss avoided a bad loss to East Carolina and locked up a bid. (US Presswire)
Locking things up:
Southern Miss: Had the Golden Eagles lost their opener in the Conference-USA tournament, things might have been a little troublesome on Selection Sunday. While it took an extra five minutes, Southern Miss got it done – and now should be fine for the NCAA tournament. They finished second in the league and have a top-20 RPI, along with wins over Memphis, Colorado State and South Florida. 9-4 against the top 100 is great compared to some of the other bubble teams.

Cincinnati: If there were any questions about the Bearcats' at-large status, they were answered on Thursday afternoon. Cincinnati faced Georgetown in a tournament quarterfinal, and made plays down the stretch en route to a double-overtime win. The absolutely awful non-conference schedule and mediocre overall computer profile could potentially only affect seeding at this point; the Bearcats are in. They are now 6-3 against the top-50 and are 9-5 away from home. They could wear home jerseys in the round of 64.

Alabama: The Crimson Tide were in good shape heading into the SEC tournament, but a loss in the first round would have made it a long couple of days for them. However, that won't be a problem, as Alabama pulled out a win against South Carolina. The Crimson Tide were around a No. 9 seed earlier in the week, so they seem pretty safe there. They are 3-5 against the top 50, and 9-9 against the top 100, but they also bounced back nicely from the personnel situation they had in February. 'Bama could jump to a No. 8 with another win.

Purdue: The Boilermakers were in the field of 68 no matter what happened in the Big Ten conference tournament, but it's nice to avoid a bad loss and stay in good position for a solid seed. Heading into the week, Purdue was arguably the last No. 8 seed in the S-Curve, and beating Nebraska keeps them on track to wear a home jersey in the round of 64. The Boilermakers are 5-8 against the top 50, although they only beat two definite NCAA tournament teams in Michigan and Temple. Ohio State is next.
Still safe:
Connecticut: The Huskies are fine despite their late loss to Syracuse in the Big East quarterfinals. A win over the Orange would have skyrocketed Connecticut up in terms of seeding, but the Huskies are still in the mix for an 8-9 game in the NCAA tournament. The No. 3 strength of schedule and 10 top-100 wins make them a lock to hear their name called in three days.
Kansas State: The Wildcats are still very comfortable heading into the weekend. A win over Baylor would have really solidified their resume, but the Wildcats already have victories over Missouri – twice – Baylor, Alabama and Long Beach State. The sweep at the hands of Oklahoma and a 6-8 top-100 record could bring down their seeding somewhat, but a No. 8 or No. 9 seed seems very likely.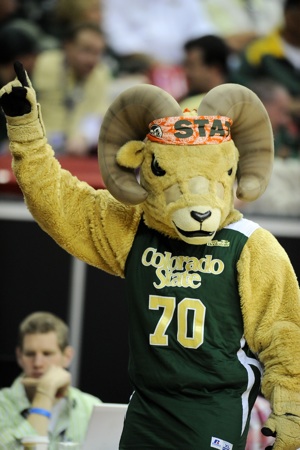 It's tough to imagine Colorado State missing the NCAA tournament at this point. (US Presswire)
Winners:

Colorado State: I really don't see how Colorado State can miss out on an at-large berth this season, after thoroughly handling TCU in the quarterfinals of the Mountain West. The Rams have a terrific computer profile, with a top-25 RPI and top-10 SOS. They have three wins over top-50 teams in UNLV, San Diego State and New Mexico, and they are now 3-0 on neutral courts. The two sub-100 losses and 3-9 record on the road gives cause for a closer look, but compared to other bubble teams, Colorado State should be safe. A loss to San Diego State in the semifinals likely wouldn't drop them several spots.

California: It wasn't clear if the Golden Bears could survive a quarterfinals loss to Stanford, but we don't need to worry about that just yet. They move on to face the winner of Oregon/Colorado, in a game that could clinch California's bid if it gets to the title game. The at-large resume isn't all that impressive, with the best non-conference win coming against Weber State. The Golden Bears did sweep Oregon, but those are the best victories on the resume, along with Washington. Cal could really cement things with at least one more win.

Texas: The Longhorns took advantage of their chance at a big win on Thursday, coming back in the second half to beat Iowa State in the quarterfinals of the Big 12 tournament. Given Texas' resume and the way things are shaking out across the bubble landscape, that might have been a win-and-in situation for the Longhorns. They improve to 4-9 against the top 50, although it's only 5-10 against the top 100. They have wins over Temple, Kansas State and two over Iowa State. They face Missouri in the Big 12 semis; a win there would lock things up completely. They might be able to survive a loss, though.

North Carolina State: The Wolfpack needed to beat Boston College in order to get a chance at Virginia in the quarterfinals. That one is the must-win for NC State. As it stands, the Wolfpack still don't have a top-50 win on their resume, going 0-8 against teams in that category. They do have two wins over Miami (Fl.) and one over Texas, which could help in bubble comparisons. They are also now 8-5 away from home, but the lack of good wins and two sub-100 losses complicate things.

Miami (Fl.): The first half wasn't pretty whatsoever for the Hurricanes, but they actually scored some points in the second stanza and also locked down on the defensive end, cruising to an easy win over Georgia Tech. They're still just 3-10 against the top 100, but two of the wins did come over Duke and Florida State. Miami will need to do more damage in the ACC tournament, starting with Florida State on Friday. A win there, and the Hurricanes could be in OK shape. A loss, and they will be sweating it out.

Arizona: I don't see how the Wildcats will get a bid, but the door is now open for the Wildcats to at least get to the Pac-12 title game after they beat UCLA in the quarterfinals and No. 1 seed Washington was upset by Oregon State. The computer profile is still terrible, and they have only defeated one NCAA tournament team (California). A win over Oregon State won't put them in the Dance, and it's unlikely a close loss in the championship game would do it either. Because of the Arizona State loss to end the season, I think Arizona needs to win the tournament.

Ole Miss: The Rebels still likely have to get to the SEC title game to have a chance at an at-large bid due to their 1-6 top-50 record, but beating Auburn easily was a good start. They have one good win over Alabama, but they also beat a couple of bubble teams in Miami (Fl.) and Mississippi State. Ole Miss only has one sub-100 loss, and the Rebels did play 17 games against teams in the top 100; they only went 6-11 in those games, though. If they beat fellow bubbler Tennessee in the quarterfinals, a semifinal contest against Vanderbilt could be a huge chance.

Nevada: The Wolf Pack have a mediocre at-large profile, but they will have a shot if they can get to the WAC title game. After a lackluster first half against San Jose State, they rolled to a double-digit win. The strength of schedule is terrible, and they don't have a single top-50 win, but they did lose just one game in conference play and are above .500 against the top 100.

Long Beach State: With the way things are going, the 49ers could certainly get an at-large bid if they lose in the Big West tournament. However, they need to get to at least the title game in order to have hopes. They didn't waste any time dispatching of UC-Davis in the quarterfinals, winning by 34. Moreover, No. 2 seed Cal State Fullerton was knocked out, which means an easier path for LBSU to the automatic bid. We'll take a closer look at their resume should they lose.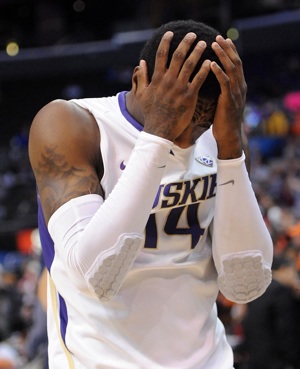 Washington will have a long three days to wait until Selection Sunday. (US Presswire)
Losers:

Washington: Wow, what a weird game for the Huskies. In the first half, the Huskies looked like they were headed to the NIT, going into halftime with a 13-point deficit against Oregon State. However, they came back to take the lead -- before Tony Wroten missed four free throws and the Beavers came out with a win. Will Washington's regular-season title be enough for an at-large bid? That's doubtful. The Huskies simply have a very mediocre at-large profile. They beat zero NCAA tournament teams and were just 1-7 against the top-50, 4-8 against the top 100. They also now have two sub-100 losses. Washington's only potential saving grace will be its regular-season title and the eye test. There's nothing else to like in their resume.

South Florida: The Bulls were so close to locking up a bid to the NCAA tournament, but Notre Dame pulled out an overtime win in the quarterfinals of the Big East tournament. That leaves South Florida in precarious position. It is just 1-9 against the top 50, although it does have a 5-1 record against teams in the 50-100 range. They have one really good win, over Louisville, but they also have victories over Seton Hall and Cincinnati. One thing that could be tough to pass up is the 12 Big East wins that Stan Heath's club came away with in conference play; that trumps many of the middling league records that some of the power-conference bubblers have. South Florida also has three sub-100 losses. It will be close, but the Bulls are probably in for now.

Northwestern: Another year, another disappointment for Northwestern. The Wildcats came into the Big Ten tournament needing at least one -- more likely two -- win in order to keep their at-large hopes alive. Unfortunately, Minnesota came back in the final minutes to snatch away a victory in overtime. This is a devastating loss for Northwestern, which now has an excruciatingly long three days until Selection Sunday. Right now, I highly doubt they will hear their name called. The Wildcats are just 1-10 against the top 50, and 5-13 against the top 100. They have no bad losses, but that won't save them this season with an 8-11 overall Big Ten record. Although the door hasn't completely shut yet, it's going to be tough for Northwestern to get an at-large bid.

Mississippi State: The Bulldogs will have one of the worst finishes to the season in terms of bubble teams, going just 2-6 in their final eight games. The latest defeat was at the hands of Georgia in the first round of the SEC tournament, their second loss to the Bulldogs in the last month. A loss to Auburn was also included in that recent stretch. Mississippi State is now in serious trouble. It has a bad computer profile, with an RPI that will likely drop to the 70s after tonight. There are three sub-100 losses. On the plus side, they are 8-8 against the top 100, with wins over bubblers West Virginia, Tennessee, Mississippi and Arizona, as well as top-35 wins against Vanderbilt and Alabama. A 3-6 road record isn't doing them any favors, though. The talent is there, but the resume might not be. It will be a long few days for Rick Stansbury.

Oregon: It's looking more and more like the Pac-12 could be a one-bid league if California wins the regular-season title. The Ducks saw a door open when Washington went down in the quarterfinals -- two wins might have done it for the Ducks. Instead, they couldn't make plays in the final minute and lost to No. 6-seed Colorado. Oregon's at-large hopes are basically done at this point. They have 0 top-50 wins and the best non-conference victories are over UTEP and Nebraska. The computer profile looked OK heading into the week, but now the RPI and SOS will drop. Assuming the committee doesn't value sub-100 record over everything else, I'm not sure Oregon can get a bid.