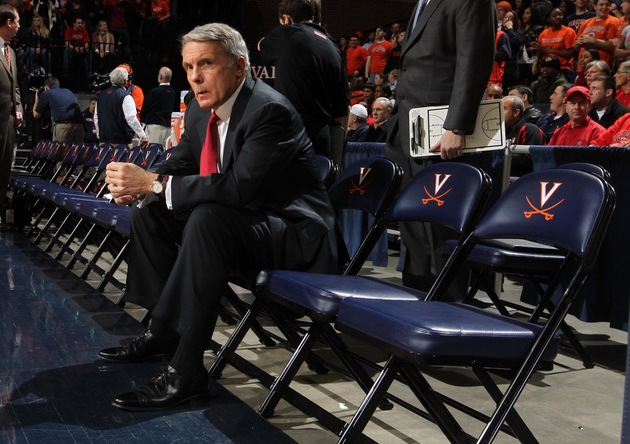 Posted by Eric Angevine


Typically, when a long time coach retires after more than two decades at the same school, a comforting list of former assistants is trotted out, to give the semblance of continuity in the coaching search. North Carolina, in particular, has made a science of this, drawing clear lines from Dean Smith to any candidate who has ever come near Chapel Hill. Gary Williams retired at Maryland yesterday after 22 years, but he hasn't left behind much of a list of former coaching associates to ease the minds of his AD or fan base.
The list of possible high-profile replacements includes some impressive names. But it begs the question: is Gary Williams' coaching tree really so bare?
Honestly, the answer is yes, but not for lack of trying.
One of Williams' longest-tenured assistants, Billy Hahn, played at Maryland in the 1970s and was an assistant to Williams for 12 years before taking the head job at La Salle University. Before he could really do much to turn the Explorers around, Hahn became embroiled in a scandal - in which he and La Salle's women's hoops coach were accused of
failure to report sexual assault allegations
- which ended his head coaching gig after just three seasons. Hahn was out of coaching for three years before Bob Huggins took him on as an assistant at WVU, a position he still holds today. Hahn wouldn't be a top choice regardless, but the heat Maryland AD Kevin Anderson would take if he looked at someone with that particular baggage would make it an even less likely scenario.
The other long-time assistant Williams sent out into the world was 13-year Maryland man Jimmy Patsos. Patsos is about as connected to the local scene as a guy can be. A Massachusetts native, Patsos played college ball at Catholic University in D.C. and coached high school ball at Archbishop Carroll in that same city before moving just down the road to help out at Maryland. When he left, it was to take over Loyola University in Baltimore. Patsos has only managed a 70-82 record at the MAAC school, but his reputation for eccentric behavior may be an even bigger problem. It was Patsos who tried to stop visiting Davidson by double-teaming Steph Curry for an entire game in 2008, leading to a headline-grabbing 30-point blowout loss for the Greyhounds (but hey,
Curry didn't score
!). That same season, Patsos again drew unwanted attention when he elected to
coach from the stands
to avoid ejection after several run-ins with officials in a November contest. No winning tradition and a goofy public persona aren't likely to earn Patsos a chance.
In desperation, some turn to Mike Lonergan as an exemplar of a successful Maryland assistant. It's a tenuous, one-season connection, but sure. The only problem is that the
Vermont coach seems about to be snatched up by another area school
, George Washington. Making the leap from the Catamounts to the Terps would have been a stretch anyway, and there's no way Anderson is going to try to outbid GW on Lonergan, who would be more of a fallback position if the big names don't pan out in College Park. Speaking of local backup options, do you think Jim Larranaga's down in Coral Gables kicking himself right about now?
The other names that come up are a couple of not-ready-for-prime-time players in Dave Dickerson (former Tulane head coach, now an assistant at Ohio State) and Chuck Driesell (son of Terp legend Lefty, current Citadel head coach). Either could be a candidate down the road, but neither is ready right now.
Dig deeper into the time before Williams became Testudo's best buddy, and big names pop up. Rick Barnes (not leaving Texas), Fran Fraschilla (hasn't coached since 2002) and Ed Tapscott (an NBA front-office guy who's had some coaching turns) don't seem like realistic choices, but they do, at least, have ties to Williams. The most promising name from Williams' days as a Buckeye is
Randy Ayers
, who is currently an assistant with the New Orleans Hornets. A former collegiate national Coach of the Year with fresh NBA ties, Ayers could be worth a shot, even though he's not really a Maryland man.
Aside from Barnes, none of the men mentioned above is a first-call kind of guy. As Gary Parrish points out, the UMD brain trust is much more likely to go for the huge splash by trying to lure the likes of
Mike Brey or Jamie Dixon
from the Big East. Anderson should aim high right now, he knows that
there aren't many jobs in the country that compare
to what he has to offer. That means he can let his fan base daydream about young tyros like Butler's Brad Stevens and Sean Miller of Arizona without it seeming patently absurd.
This is likely to be the biggest coaching search of the year, and it will be very public and stressful for Maryland AD Kevin Anderson and the school's fan base. For those of us not directly or emotionally involved, it should be very enjoyable high theater. Let's pop some corn, get comfortable on the couch, and enjoy the show.
Photo: US Presswire