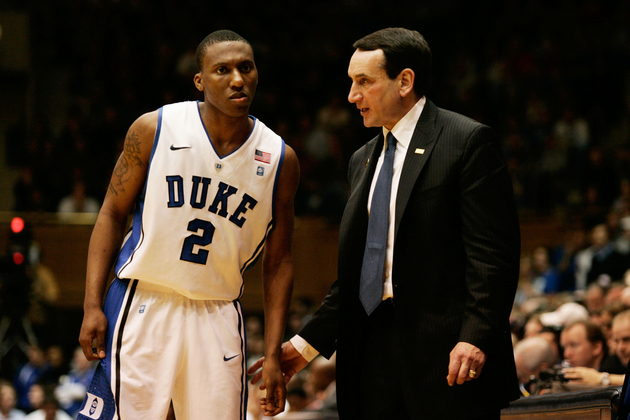 Posted by Eric Angevine
Durham, North Carolina -- I made a rookie mistake in my first trip to Cameron Indoor Stadium. When I left press row during halftime – with North Carolina up 43-29 on enemy turf – I left my laptop open to the page where I had been keeping my game notes.
When I came back, the Cameron Crazies who had been measuring the thread count of my shirt all game long had a look I have seen on my eight-year-old son's face many times. The "I didn't do anything" look.
I squeezed back to my seat, secure in the knowledge that one of them had, indeed, done something. Right below my final note of the half, which read "Curry directing traffic , sent Singler left then drove in for pull up 2 ptr," was a line I had not written. "Devils have amazing second half comeback!!!!!!!!!!!!!!!1"
If this were Hogwarts school of Witchcraft and Wizardry, I'd give that kid top marks in divination, because that's exactly what happened. The game that started with Carolina running the floor and scoring in bunches ended up a 79-73 victory for the never-say-die home team.
The first half had been dominated by UNC's big men. Tyler Zeller went into the locker room with 13 points and 9 boards and ended up with 24 and 13, but in-between, there were just too many big shots by Duke guards Nolan Smith (34 points on 13-23 shooting) and Seth Curry (22 points).
"Seth started the second half and he and Nolan were… both of them were sensational," Coach K said after the game. "Our defense really picked up. They didn't get the fast breaks in the second half that they did in the first, in part because our shots were better. Sometimes you get so ready to play you just get nuts. We had to calm them down."
Roy Williams concurred. When the UNC coach was asked why Harrison Barnes finished the game with just 9 points after making just three of his eight shots from the floor, he chuckled quietly, looked down at the paper he was creasing and re-creasing and said "It's called the Duke defense."
The UNC defense made Kyle Singler's life miserable for 40 minutes. The senior never left the floor, but he struggled to get position against a variety of defenders, and the team effort by the Tar Heels held him to 10 points on 3-17 shooting.
Coach K thanked the fans – the legendary Cameron Crazies – for refusing to give up on the Devils, and there's a word document saved in my computer that will attest that hope springs eternal amongst the blue-painted hordes at all times. Coach K's final comment paid due respect to an opponent who once again made this game a pleasure for college basketball fans across the nation.
"A win over an outstanding program is a treasured win, no matter what the score is."