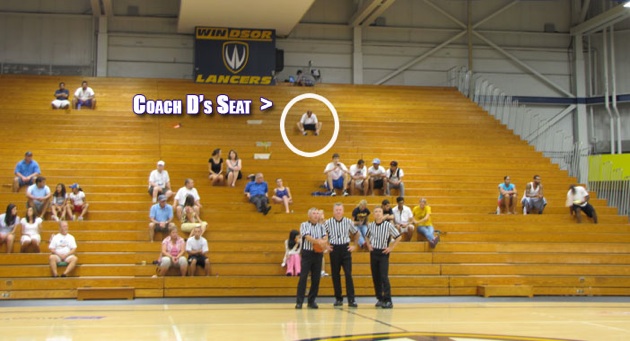 In our Trippin' series we're talking to teams as they return from preseason trips to foreign locales. Click here for all Trippin' related stories.

By Jeff Goodman

He wasn't on the roster and didn't play the previous game against Murray State, but when North Florida assistant coach Bobby Kennen returned to the locker room and said the name, Ospreys head coach Matthew Driscoll shook his head in disbelief.

Theo Davis.

Yes, that Theo Davis.

The former Top 10 player, who was once committed to Texas, signed with Iowa State, attended Gonzaga and wound up at Binghamton, is now at Brock University in Canada.

``I couldn't believe it," Driscoll said. ``He wasn't on the roster, but was No. 42."

Brock coach Brad Rootes told CBSSports.com that Davis is in his first year with the program and is in fourth season overall of eligibility.

Davis finished with eight points and eight rebounds in North Florida's 85-81 victory.

But this isn't about Theo. It's about North Florida – and its trip north of the border.

What Driscoll learned: ``We have a high-character group. Everywhere we went, people – from waiters and waitresses to the people who worked in the hotels we stayed at – all said what a pleasure our kids are to be around. You can tell our guys really, really like each other."

What or who impressed him: Sophomore Charles McRoy - ``Parker Smith had 29 points in the final game, but that's what he does. The guy we walked away impressed with – after 10 practices and the games – was Charles. He just went to another level. This is a kid I wanted to redshirt last year, but my staff convinced me not to – and he had some huge moments. He's 6-6, plays the wing and he had no idea where to be last year defensively. This year he was where he was supposed to be and just made plays for us – whether it was 3's, drives or putbacks."

What concerned him: Free throw shooting. ``We had 12 games last year decided by five points or less and we missed 69 free throws in the six losses. We still didn't shoot it well from the line on the trip. In the second game, we missed more than we made and were 19-of-39."

- Driscoll said that highly touted freshman point guard Jacoby Davis wasn't gained admittance academically into the school. Sources indicate that the West Charlotte, N.C., standout may go the prep school route and wind up at a higher level.

- Driscoll let his assistants be the head coach each game and he sat up in the stands on the other side of the gym the entire game.
- Last year's leading scorer, Parker Smith (12.0 ppg), didn't start a single game – and Driscoll said he'll come off the bench again to give the team a scoring punch.

- Look for junior Will Wilson, who averaged 10 minutes a game last season in a reserve role to Brad Haugabrook, to have the first crack at the starting point guard spot. He's not a big-time scorer, but does a nice job distributing – and can score when necessary.

- Jimmy Williams, who started all 34 games a year ago and averaged 8.4 points and 5.1 rebounds per contest, made the trip - but did not play due to the good old "coaches decision."

CBSSports.com's list of teams taking preseason trips