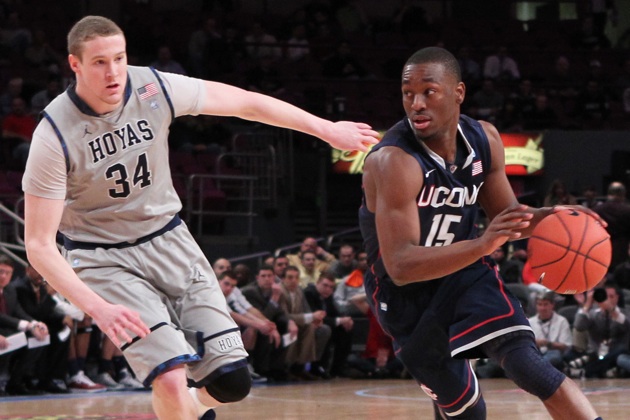 Posted by Jeff Borzello
As we get closer and closer to Selection Sunday, players are starting to realize that the next game could be their last. As a result, we're seeing more and more big-time performances in conference tournament games, as well as hard-fought finishes. It's perfect for fans. Follow me for all conference tourney updates on Twitter: @jeffborzello
Conference Tournament Updates:
Big East: The quarterfinals of the Big East were jam-packed, to say the least. Matt Norlander penned stories on Georgetown's poor effort against Connecticut; the debacle that was the St. John's – Rutgers ending; and Marquette locking up a bid against West Virginia. In the other quarterfinal, Cincinnati hammered South Florida, 87-61. Top performers: Yancy Gates, Cincinnati (25 points, four rebounds); Kemba Walker, Connecticut (28 points, six rebounds); Junior Cadougan, Marquette (15 points, five assists)
Big 12: Check out the tourney update for first-round summaries and second-round preview capsules.
Conference-USA: The first round of the C-USA featured three double-digits wins and a one-point squeaker. UCF finally ended its three-month freefall by losing to East Carolina by 15, while Southern Miss kept its hopes alive with a 63-47 win over Tulane. Marshall advanced with a 97-87 win over Houston, and Rice held on to beat SMU by one. Top performers: Arsalan Kazemi, Rice (24 points, 13 rebounds; Damier Pitts, Marshall (28 points, 10 assists)
MEAC: In the lone first-round game on Wednesday, Norfolk State handled Howawrd with ease, 68-53. In the quarterfinals, top-seeded Bethune-Cookman beat South Carolina State by 16, while No. 2 Hampton dominated Maryland-Eastern Shore, 77-55. Top performers: Darrion Pellum, Hampton (23 points, seven rebounds); Kyle O'Quinn, Norfolk State (25 points, 12 rebounds)
Mountain West: TCU won the right to face BYU in the quarterfinals of the conference tournament, defeating Wyoming, 70-61. Going into the game, the ninth-seeded Horned Frogs had lost 13 in a row. Ironically, their last win was over this same Cowboys team. Top performer: Hank Thorns, TCU (16 points, nine assists)
Pac-10: Overshadowed by the Big East and Big 12 tourneys, the Pac-10 had some excitement. Oregon State held off a rally from Stanford in the final 30 seconds to win their first tournament game since 2006, while Oregon knocked down 11 3-pointers to beat Arizona State, 76-69. Top performers: E.J. Singler, Oregon (22 points, five rebounds); Jared Cunningham, Oregon (24 points); Jeremy Green (25 points)
Southland: In the most wide-open league in the country, it came as no surprise that three games were decided by seven points or fewer. No. 1 seed McNeese State defeated Nicholls State by seven, but second-seeded Northwestern State wasn't so lucky. Texas-San Antonio's Jeromie Hill had a dunk with two seconds left to give UTSA a 97-96 win over the Demons. Sam Houston State handled Stephen F. Austin by 16, while fourth-seeded Texas State came back to beat Southeastern Louisiana, 72-68. Top performers: Devin Gibson, Texas-San Antonio (28 points, 10 rebounds, 10 assists); Anatoly Bose, Nicholls State (25 points, nine rebounds); Ryan White, Texas State (26 points)
SWAC: The top two seeds in the SWAC advanced, as regular-season champ Texas Southern came back to beat Arkansas-Pine Bluff, 50-45, while No. 2 Jackson State beat Prairie View by 12. Top performer: Travele Jones, Texas Southern (19 points, nine rebounds)
WAC: There were two first-round games played in Las Vegas on Wednesday. No. 8 San Jose State upset No. 5 Hawaii when Adrian Oliver nailed a pull-up jumper with five seconds left to give the Spartans a 75-74 win. No. 6 Nevada held on in the final minute to beat Fresno State, 90-80. Top performers: Malik Story, Nevada (34 points, six 3-pointers); Greg Smith, Fresno State (14 points, 20 rebounds); Adrian Oliver, San Jose State (29 points, seven rebounds)
Punching Tickets
Big Sky: Northern Colorado used a late 13-3 run to pull away from Montana down the stretch and advance to the NCAA tournament. The second-seeded Grizzlies had three players foul out, while Northern Colorado got 27 points from Devon Beitzel, including a clutch 3-pointer to put the Bears up seven in the final minute.
Northeast: Jamal Olasewere had 31 points and 11 rebounds to lead top-seeded Long Island to its first NCAA tournament since 1997, knocking off Robert Morris in overtime, 85-82. RMU used a 10-2 run late in regulation to force overtime, but it could not get similar heroics in the extra session. Russell Johnson had a chance to tie the game at the buzzer for the Colonials, but it fell short.
Photo: US Presswire