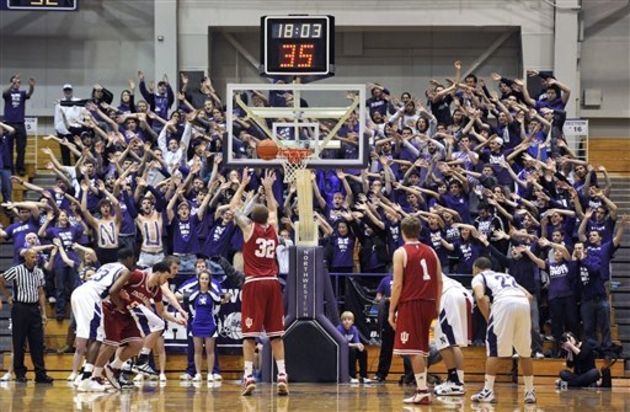 Posted by Eric Angevine


Confession time: I'm a T-shirt junkie. Every season, I celebrate my love for college hoops by ordering two or three new tees from teams that capture my imagination in one way or another. I've acquired clothing items from Butler, Cal-Irvine, Temple, Oakland and even Appalachian State. No team is too big, no team is too small.
This season, I was taken by the shirt so many Northwestern fans wear (above). It's the royal purple one that says, all caps,
MAKE SHOTS
in white
.
It struck me as a very direct and simple motto for a team that's trying to get over the hump and make it to the Big Dance. Basketball is, after all, about putting the ball in the hole. So I had to have one.
The only problem is, the motto doesn't really fit the situation at Welsh-Ryan Arena.
MAKE SHOTS
exhorts the Wildcats to do something they already do well. Making shots isn't going to give them the extra gear they've been seeking for so long. Despite the fact that we're more than halfway through the regular season, and we've already
expressed our love
,
written the Wildcats' obituary
and
questioned Bill Carmody's contract extension
, I still feel this team has a chance to make good on those postseason dreams. Their conference losses have all come to ranked teams. The only outlier is a December loss to a St. John's team that suddenly doesn't look like such a pushover in the stacked Big East. Northwestern is 3-4 in league play after beating Michigan, and could end up at 8-8 or 9-7 if they win the games they should win and tack on one of those crazy home upsets of a ranked opponent they seem to manage annually under Carmody.
So, what should the new mantra be? The only place
MAKE SHOTS
still needs to be hammered home is on the free throw line, where the Cats are shooting a miserable 69.6 percent as a team. Aside from that glaring problem, they're
marvelously efficient
, sporting the nation's 13th-best effective field goal percentage, and very respectable numbers both in front of and behind the arc. They've got this
MAKE SHOTS
thing knocked, until they go up against the likes of Ohio State, who just do everything better than anyone right now.
What the new T-shirt should say (perhaps someone's working on a non-copyright-violating knock off even as I type this), is
STOP SHOTS
. Carmody's defense is, in a word, putrid. Every shooting stat that's positive on the offensive side of the board is reflected in a bizarro-world mirror image in the defensive column. The adjusted defensive efficiency number at kenpom.com is 97.5, or 107th nationwide. That actually puts a pretty shiny veneer on some specific numbers that are flat-out discouraging. The Wildcats allow a 51.8 eFG percentage to opponents, which is 2.8 percentage points worse than the national average of 49.0. When you consider how many mediocre and outright bad defensive squads go into making that average number, the magnitude of the problem becomes clear.
Defense isn't the only problem in Evanston. The big men are terrible at grabbing boards and get their shots blocked way too often, but those issues aren't really fixable at this point without a change of personnel. Team D, on the other hand, can be put right before the season ends. Right enough to earn season sweeps of the Big Ten's lesser lights, like Iowa, Penn State, Indiana and possibly even Michigan. That's your 8-8 record, right there. Pull a shocker or two over a team that isn't clicking on a given night, say Minnesota or in-state rival Illinois, throw in a couple of conference tourney wins, and the dream becomes easily attainable. The stay in the Dance would likely be a short one, but first things first, right?
So there you have it, Northwestern fans. You should probably still wear the
MAKE SHOTS
shirt if you're sitting under the home basket, but maybe a zip-up hoodie with
STOP SHOTS
over top would give you the flexibility you need to alternate the supportive message with the kick in the pants that any great team needs.