By Jeff Goodman
It was the first time Blaine Taylor's four daughters had ever seen him without The Stache. And one of them is 31 years old.
"They looked at me like I was some strange serial killer," Old Dominion's head coach, known for his mustache, told CBSSports.com. "They were just staring at me funny."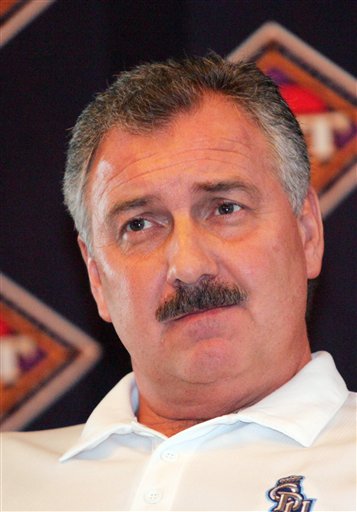 They have gotten used to it - and so has, Taylor, who has no plans to bring it back. (Unfortunately, we have no photos, yet, of Taylor without The Stache.)
"I didn't cut it to grow it back," he said.
It's just one of the major changes Taylor has endured this offseason. He also dropped some excess baggage and will have a completely different core this season at ODU.
Four starters are gone off last year's team that won the CAA tournament - Frank Hassell, Ben Finney, Darius James Keyon Carter. The fifth, Kent Bazemore, will likely miss the first month of the season with a foot injury.
"Every guy on the team will be in a different role," Taylor said. "We're going to have to preach a little patience."
The team that will play in the Hall of Fame tournament in late-November will have a drastically different look than the one that will be on the court for CAA play in, say, February.
Bazemore, who is still in a boot, should be back at full-strength by the heart of CAA play. Richard Ross, a redshirt freshman forward, should be academically eligible in the second semester - and Clemson transfer Donte Hill will also be eligible.
"I'm invigorated by the changes," Taylor said. "We've been picked to win the league the last couple of years. We're picked off the pace this year and are literally a dark horse. I'm a big horse racing guy and a dark horse is one that people aren't talking about, but has the ability to surprise."
Taylor isn't ready to speculate on Bazemore's timetable, saying that he's still a "long ways off from working out."
Taylor said that guys like senior Chris Cooper and redshirt junior Nick Wright will need to step up along the frontline - and the same goes for senior guards Marquel De Lancey and Trian Iliadis.
"We've typically been a program that has gotten much better in January and February - even with a veteran team," he said.
But this team has a completely different look than its predecessors. It's almost as unrecognizable as the head coach without The Stache.
Photo: AP