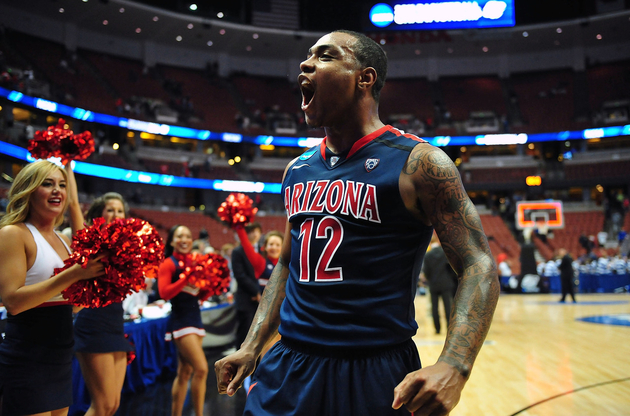 Posted by Eric Angevine
The Pac-12 is every writer's favorite target these days. It's the power conference that has suffered the most from talent drain in recent seasons. Talented players are still choosing to "go West, young man", but they're not staying. Just this past season, the league lost exciting players like Arizona's Derrick Williams, UCLA's Tyler Honeycutt and Malcolm Lee, Washington's Isaiah Thomas, USC's Nikola Vucevic and Washington State's Klay Thompson and DeAngelo Casto. All of those players
declared for the NBA draft
, and incoming league member Colorado lost Alec Burks and (oddly) Ryan Kelly as well.
That inability to keep mega-skilled players on campus is not unique to the Pac-10, but it does help explain why the league is putting fewer teams in the NCAA tournament than it used to. Perusing various different reports from newspapers serving Pac-10/12 schools, another equally impactful trend rears its head as well. Transfers - of mid-level and even seldom-used players - are killing the league in another way. Arizona losing MoMo Jones this week has obvious downside, but a player doesn't have to be a star to hurt his program by transferring.
The first piece of the puzzle came from this article on
Arizona State's high turnover rate
, written by Doug Haller of the Arizona Republic.
In five years at Arizona State, Herb Sendek has signed 24 players, including three in his latest class.

Eight have transferred.

A ninth player, Stephen Rogers, wasn't on scholarship, but also opted to leave, ending up at Brigham Young, where he was a valuable reserve last season. It's a lot of turnover for a program struggling to find firm footing in the Pac-10, and it's starting to prove costly.
Haller's article focuses on ASU's inability to mesh well with a constantly-changing rotation, but there's more to the problem. The second piece of the puzzle was unearthed by the Eugene Register-Guard, which follows the Oregon hoops program.
Players leave, and are replaced, as Oregon has been doing.

What sticks around are the effects of those changes on academic reports produced by the NCAA, and Oregon's recent trend of player departures before they conclude their eligibility and receive their diplomas is going to result in some unfavorable numbers for the Ducks in future years.

"It is a concern," Altman said. "It's more transition than we would like."

In the most common reporting tool used, following incoming freshmen, Oregon is currently in a five-year period in which at most five players of the 15 who came in as scholarship freshmen will graduate from the UO.
The Register-Guard, in addition to correctly zeroing in on the Academic Progress Report as an indicator of possible future danger, recognizes the more immediate issue of negative recruiting. Other coaches will use Oregon's high turnover rate to insinuate that there's something wrong in Eugene, Oregon, and that Recruit X would be much happier elsewhere, specifically in that opposing coach's program.
The recent focus on the Pac-12 has been all about how much money the
league's TV deal
is worth. Some might feel that the financial success of the growing conference diminishes concerns over the league's reduced profile, but that seems short-sighted. TV revenue always revolves around football, and a declining basketball product isn't going to attract many eyeballs in the winter, not if viewers have the option of switching to another network to watch potentially more meaningful games every weekend. Knowing that only two or three teams have realistic NCAA tournament resumes each season is robbing the venerable league of some past glory.
There will always be transfers and early NBA entries. For the long-term health of Pac-12 hoops, however, coaches and athletic directors need to put their heads together and find a way to slow the bleeding.
Photo: US Presswire