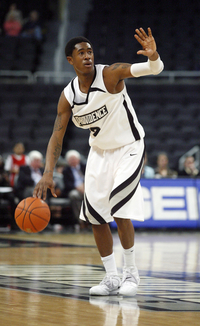 Posted by Eric Angevine

Wow, check out Marshon Brooks.
Odds are, the Providence senior will only remember that he dribbled the ball off his foot to kill his team's rally in a narrow 83-81 home win for the Hoyas, but anyone else who watched will remember that Brooks almost single-handedly upset Georgetown.
Check out this line: 43 points, 17-28 from the floor, 7-10 from the free throw line. 8 rebounds, 3 assists, 2 steals and a block.
It's enough to make you feel bad that Brooks is getting so little help. Duke Mondy was the only other Friar in double-digits, scoring 19 while nominally coming off the bench, but playing 34 of 40 minutes. Vincent Council was 0-11 for the game. Gerard Coleman managed 3-13. If just one or two of shots had fallen true for either starter, this probably would have been an upset for the visiting team.
Brooks isn't your typical ball-hog, either. When G'town had a five-point lead with time running out, Brooks penetrated to the basket, where he could have had the easy two (seriously, the Hoyas could not stop him all day long), but chose to pass out to a wide-open Bryce Cotton, who drained a three-pointer that ended up being his only points of the game.
This performance by Brooks just points out how hard it is to win in the Big East. A superior scorer is not enough. You'd almost be better off with two or three really good scorers who can keep defenses honest.
The inability of Keno Davis to develop talent around his star is a big part of what holds Providence back from contention (in his defense, he's not the only one to have that problem at this school). Davis once upon a time had a line on Shabazz Napier, who has instead become a valuable contributor for a revitalized UConn team in his freshman year. Davis also got a verbal commitment from Naadir Tharpe during early recruiting, but the talented guard has since reconsidered and joined the next Kansas Jayhawks class. This past week, hometown guy Ricardo Ledo backed out of a commitment as well (though, in Keno's defense, that's pretty much what Ledo does to everyone).
Keno Davis seems to be a good enough guy, but he may be in over his head in the Big East. It ought to be killing this team and its head coach that they wasted such a masterful performance by Marshon Brooks.