Posted by Eric Angevine


Temple shooting guard Ramone Moore says he never intended to actually go into the NBA draft. He did, however,
signal his intent to work out and gather professional evaluations
as a nominal member of the Association's class of 2011. Where that temptation might have led, we may never know.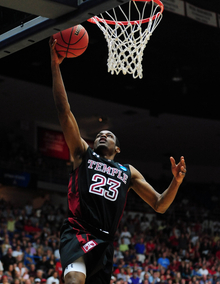 That's because, following a conference call with his parents and a mentor, Moore decided that his commitment to the Owls comes first. Keith Pompey of The Philadelphia Inquirer has the story:
"It was basically a family decision," Moore said in a statement about changing his mind. "We talked it over this morning and I realized that my main focus was to stay in school, earn my degree, and play my senior year at Temple."

According to a source, Moore "decided to enter his senior year at Temple without any distractions. He didn't want to make coach Fran Dunphy mad.

"He didn't want to make it seem all about him and his dream to make it in the NBA. That would have distracted from the team and the team's goal."
The logic is a bit strange, really. Testing the market is actually a pretty good idea for a talented junior. It lets him see what he needs to work on in his senior season. Dunphy himself seems completely unworried by the notion of Moore giving it a whirl. He told the Inquirer "Ramone is always a team guy. He would be a team guy if he tested the waters, and a team guy if he didn't test the waters."
U Mad, coach? No.
Moore was the team's leading scorer last season, averaging 15.4 points per game. He scored 23 in Temple's second round win over Penn State, and pitched in 17 in a double OT loss to San Diego State in the third round of the NCAA tournament in March. Last season he averaged 33 minutes per game, well above what he contributed in his first two seasons in Philly, when he averaged under 20 minutes per.
With Moore set to return, Dunphy loses only 6-foot-9 Lavoy Allen from his rotation. Moore and Argentinian Juan Fernandez form a formidable senior backcourt alongside younger tourney-experienced junior guard Kahlif Wyatt and sophomore-to-be Aaron Brown. So far, Dunphy's lone recruit is Will Cummings, a true point guard from Florida. Rahlir Jefferson is a slender 6-6 wing who could concievably play beside
Scootie Penn
Scootie Randall (interesting cerebral flatulence there...) to form a shortish frontcourt, a situation that should be helped by the return of 6-11, 240-lb. Nigerian Micheal Eric, who missed most of conference play and all of the postseason this year due to injury. Dunphy still has his eye on local kid Jaylen Bond, a muscular 6-7 player who
recently de-committed from Pitt
and announced his decision to attend a year of prep school instead.
Even without a huge frontcourt, the return of Moore makes Temple an early favorite to lead the Atlantic 10 next season. Should Dunphy find another player to add beef and depth to the Eric-Randall tandem, we'll go Sharpie on that.
Photo: US Presswire