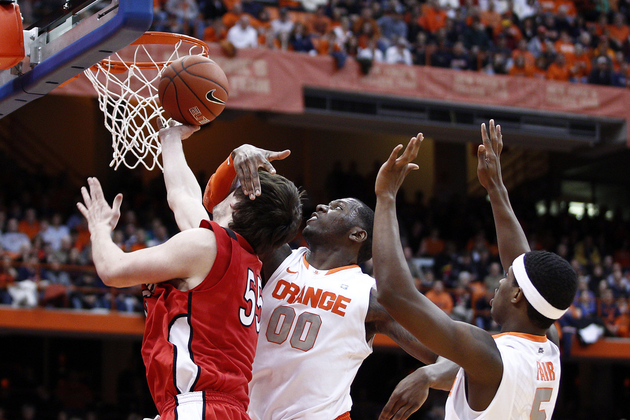 Posted by Eric Angevine

If this game was any indicator, the Big East had better look out for Rutgers next season. The Scarlet Knights hung in at the Carrier Dome in spite of a near triple-double from Rick Jackson, three DQs and an incredible 47-14 free-throw differential, forcing OT and coming within five points of the home team in an 84-80 road loss.
Rutgers shot the lights out from deep, knocking down 39 percent of their attempts from behind the arc. Guard Mike Coburn led the visitors with 18 points and 6 assists.
Syracuse had the inside edge as expected, and got a star turn from Jackson (above, defending against Gil Biruta), who finished the game with 18 points, 12 boards and 7 blocks. Frontcourt mate Kris Joseph kicked in 21 and 8. Brandon Triche and freshman C.J. Fair each had 17.
Syracuse moved to 9-6 in the Big East, ahead of UConn and West Virginia and just behind a massive logjam of 9-5 teams that includes Villanova, Georgetown, Louisville and the surprising St. John's Red Storm.