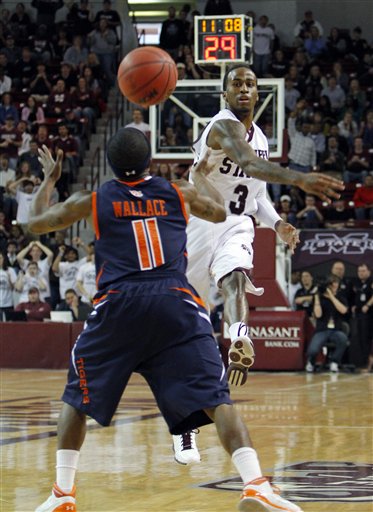 By Jeff Goodman
Rick Stansbury knew it wouldn't be pretty. Not against Eastern Kentucky and Jeff Neubauer's methodical offense and 1-3-1 zone defense.
But he's just happy to come out with a season-opening victory.
Dee Bost went for 23 points and six assists, UTEP transfer Arnett Moultrie had a double-double (13 points, 10 boards) in his debut and freshman Rodney Hood had 12 points and nine rebounds.
"It wasn't easy with the way they play and the way they control the game," Bost told CBSSports.com after the 76-66 win. "But A win is a win."
Oh yeah - and Renardo Sidney finished with a lackluster nine points and three rebounds in 23 minutes.
"He's better than he was, but we still want more from him," Stansbury said of the talented big man. "We need more from him."
Stansbury spoke highly of Bost - who he has from the start of the season this year - as well as Moultrie and Hood.
Stansbury is also optimistic that freshman guard Deville Smith will be cleared and be able to play against Akron later this week. Smith was released from the hospital on Monday after experiencing headaches and dizziness.
"Has the the ability to change games - both offensive and defensively," Stansbury said.
With Bost, Moultrie and Hood, Mississippi State has three guys that can match up with just about anyone.
The key, obviously, is the much-maligned Sidney - who needs to give consistent effort.
"He'll get it going," Bost said of his once highly touted teammate. "This team changed defenses a lot - and it was tough to get him the ball in the post."
If Sidney finally gets it - and it's a huge if - this team could be scary.
But so far, with one game in the books, he hasn't shown anything different.
Photo: AP